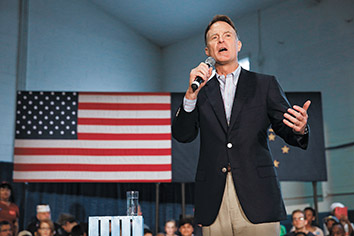 Evan Bayh was the Democrats' prize Senate recruit this election cycle, a popular former senator and governor with a huge war chest and sky-high name ID in his home state. Top Democrats heralded his surprise entrance into the race in July with hopes that Republicans would abandon his little-known and underfunded GOP rival, Rep. Todd Young, and give up on Indiana.
Instead, outside GOP groups including the Chamber of Commerce and the billionaire Koch Brothers have poured some $10 million into the race, eroding Bayh's fund-raising advantage and closing his lead over Young to low- or mid-single digits. With Republicans determined to retain their narrow majority in the Senate, they have brought big-name surrogates like former President George W. Bush and House Speaker Paul Ryan into the state. They have succeeded in putting Bayh on the defensive, in the process turning the race into one of the hardest fought contests in this year's heated struggle for control of the U.S. Senate and the balance of power in Washington, D.C.
"I'm not a lobbyist," Bayh was forced to insist in an ad responding to a barrage of attacks on his work in Washington, D.C., since leaving the Senate six years ago. And with Bayh dropping fast in the polls, outside Democratic groups are belatedly coming to his aid, with the Senate Majority PAC and the Democratic Senatorial Campaign Committee both announcing spending on his behalf in recent days, a move some Democrats once hoped would not be necessary.
"Clearly our message is resonating with Hoosiers—and over a very short time period," Young said at a recent news conference before former President Bush headlined an Indianapolis fundraiser on his behalf.
"This race for United State Senate here in Indiana could dictate control of the U.S. Senate and even composition of the Supreme Court moving forward," Young added. "It is essential that Republicans hold on to this seat in what is otherwise a Republican state."
Democrats concede that their initial strategy of scaring off the GOP with a shock-and-awe entry from Bayh didn't pan out. But they insist they still have a path to victory, even if some privately question whether the 60-year-old Bayh is up for a tougher fight than he envisioned when Sen. Chuck Schumer of New York urged him into the race.
Bayh himself, appearing over the weekend at a Jefferson Jackson Day Dinner Banquet in Muncie, dismissed the attacks coming his way. "These are the acts of desperate people who don't stand for a doggone thing," Bayh said. "They know the only way they can try and win this election is not on the basis of their ideas or what they're going to do for you or the good people of Delaware County because they've got no ideas for the people of Delaware County."
The race in Indiana is practically the only competitive Senate contest being fought this year in a red state, where Donald Trump is all but certain to triumph easily over Democrat Hillary Clinton, who herself played a role in encouraging Bayh to run. Both sides agree that Indiana's GOP tilt helps Young, although Democrats contend that Bayh's strong reputation and high name ID counteract it. Young remains little known, but Republicans have succeeded in driving down Bayh's numbers with ads tying him to Clinton and criticizing his support for President Barack Obama's health care law, which is unpopular in the state. Incumbent GOP Sen. Dan Coats is retiring.
Democrats insist they can still win in Indiana, but the changing landscape here comes amid a shifting Senate map nationally that's looking more favorable for the GOP. Republicans now have a 54-46 advantage in the Senate, meaning Democrats need to pick up five seats to win control, or four if Clinton wins the White House since the vice president casts tie-breaking votes. Democrats appear to be losing confidence in battleground Ohio and Florida but pushing into North Carolina and Missouri, while New Hampshire and Pennsylvania remain closely fought. Republicans have all but abandoned GOP incumbents in Illinois and Wisconsin, but are focused on picking up a seat in Nevada, where Minority Leader Harry Reid is retiring.
In the latest development in Indiana, the National Rifle Association announced it is coming into the state with a $500,000 buy to attack Bayh's "anti-gun record."
Despite the influx of outside spending, Indiana University public affairs professor Paul Helmke said the race is still Bayh's to lose.
"Evan Bayh came with a major lead in money, which meant there was going to be a lot of outside money coming in," said Helmke, a former Republican mayor of Fort Wayne, Indiana, who ran for U.S. Senate in 1998 but lost to Bayh. "If they were thinking this was a laydown, then that was a mistake on their part. Bayh's going to have to work this one really hard to win."
Please enable JavaScript to view this content.