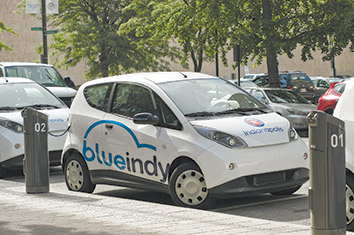 One of the Indianapolis City-Council's chief disputes last year over the BlueIndy electric car-sharing program is on the verge of being resolved.
A council committee took the first step Tuesday night toward approving a franchise agreement with BlueIndy, unanimously approving a deal that would net the city $45,000 per year for allowing the company to operate its stations on the city right-of-way.
The full council will still need to vote on the proposal, which also sets new standards for alerting the city and the community when new stations will be built, and allows the city to have up to five existing locations relocated at no cost if they are found to violate new terms of the deal.
"This is the end product of several months of negotiation," Council attorney Fred Biesecker told council members Tuesday. "BlueIndy has been very cooperative."
Council Democrats, led in opposition by Vice President Zach Adamson, complained last year that former Mayor Greg Ballard exceeded his authority by approving the project without council oversight, and said that BlueIndy should "apply for a franchise license as prescribed by law for any monopoly taking public right of way for extended periods of time."
The concerns culminated in a lawsuit against BlueIndy filed by the Marion County Auditor. The franchise agreement is the result of the lawsuit's settlement, Biesecker said.
Adamson said in a statement read to council members that he supported the franchise agreement and "believes most of [the] issues have been resolved."
BlueIndy General Manager Scott Prince said he hopes once the agreement is finalized that the company and the city "can collaborate even further and build good, high-volume stations in your areas."
Biesecker said the $45,000 per year the city would get from the franchise agreement would cover most of the lost parking meter revenue that the city lost from installing the stations.
After the agreement is officially approved, the city will have 45 days to conduct an analysis of the sites and determine up to five that can be moved at BlueIndy's expense if they would result in "demonstrable substantial economic harm" or "obstruction of customary access or … the ability to conduct normal business."
The maximum number of current stations that can be moved is seven, and the city would forfeit one year of the franchise fee for each extra station, beyond the first five, that is moved.
BlueIndy, which has a fleet of 240 cars and 75 stations around Indianapolis, has about 2,200 members that have completed 22,000 trips since its launch last September.
Please enable JavaScript to view this content.