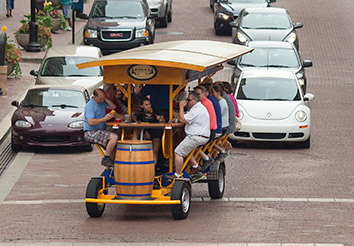 Companies in the business of serving up booze-filled "pedal pub" experiences—those passenger-powered bar-on-wheels trolleys that meander down city streets—may have to follow some new rules under consideration by the Indianapolis City-County Council.
City officials are hoping to increase the safety of such experiences and cut down on complaints from neighbors by amending an existing city ordinance for pedal cabs to make sure the pedal pubs are included.
The effort, which will be introduced at Monday's City-County Council meeting, is sponsored by Republican City-County Councilman Jeff Miller and Democrat Council President Zach Adamson.
It will require pedal pubs to be licensed by the city and require them to carry liability insurance, among other restrictions.
"When you're a private company using a public asset, you're putting the city at risk if you don't have liability insurance," Miller said.
Miller said he believes at least one company offering pedal pubs is on board with the ordinance, and that he has heard support from people in his neighborhood.
"We do have people complaining about noise, as well as the routes that the vehicle goes down," Miller said. Going down a residential street late at night with 16 people that have been drinking is "probably not a good idea," Miller said.
But another company is complaining that the ordinance is excessive government regulation.
Nicole Eliason, co-owner of the Pickled Pedaler, told WTHR that the regulation was "a solution in search of a problem."
"We oppose senseless regulatory ideas like this," she said. Eliason did not reply to IBJ's request for comment.
Miller disagrees, pointing out that other cities have gone further in their regulation, including by regulating the number of alcohol pours that these companies can serve.
"I feel this is very reasonable and that any private company should be expected to act responsibly," Miller said. "Liability insurance is a key piece of that. Everything needs to be done in moderation. The scale is a little too far in the other direction right now."
The councilors are less certain about how to address public nuissance issues such as noise and the routes that the pedala pubs follow. They hope to receive public input on those issues as part of the ordinance approval process.
Please enable JavaScript to view this content.