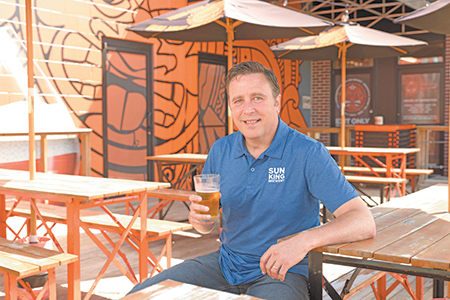 Robert Whitt recently made the most unexpected of career moves.
Four months ago, he left his position as executive director of White River State Park, where he served for 11 years, to become president and co-owner of Sun King Brewing Co. With no experience in the industry, Whitt, 54, has taken the helm of a brewery that's both ramping up beer production (state law recently increased the amount it can produce from 30,000 barrels annually to 90,000) and getting into spirits, courtesy of a new $5 million Carmel facility.
When it comes to running a brewery, what skills do you bring to the table?
I certainly have an extensive background in management. White River State Park is a very multifaceted organization and there was a lot of carefully controlled chaos. Lots of balls in the air.
Prior to that, I also had a career in commercial real estate. I had quite a few positions in sales management, marketing, that sort of thing. To me, a lot of this is about building teams, hiring the best people and always looking ahead. [Sun King co-founders] Dave [Colt] and Clay [Robinson] have a vision of what they want to do, and it's pretty clear. They want to be Indiana's beer and spirits. It's about taking their vision and making it a reality.
How did you get on Sun King's radar?
While I was at White River State Park, I attended a lot of community and charity events. Back in 2009, shortly after the brewery was founded, they started popping up at those events. I tasted their beers and liked them. I visited their downtown brewery on a Friday evening, talked to the management and found that they shared a lot of the same concerns I had about the community and giving back. Over the ensuing years, we developed a stronger and stronger relationship.
Did you have to think about this career move for a while?
Definitely. I truly thought my job at White River State Park was the job of a lifetime. But Sun King is such a unique business and it's unique because of the culture. The folks here are just truly passionate about what they do. It's a very special place.
How long did it take you to get up to speed on the brewing industry?
I am by no means up to speed yet. I am working through the brewery, doing virtually every job. I've worked in our tasting room. I went to our small-batch brewery and taproom in Fishers and brewed a batch of beer with Dave Colt. I've gone out with the delivery drivers and with the draft technicians who clean out our draft lines at the Indianapolis bars and restaurants we serve. I went out with the salespeople and worked on the canning line. I've worked my way through all the functional areas throughout the brewery. It's very important to understand all the pieces that go into this wonderful puzzle.
What are the plans for the new Carmel distillery?
We see it as a natural extension of the brewing process. Distilling is something we've been interested in for a number of years, but we put it on the back burner because we've been so challenged to keep up with the demand for our beer. But they've been thinking about this for a long time. It's going to be a very exciting project, with a two-story, 15,000-square-foot facility, with a distillery and a beer taproom. So you'll be able to get our beers, as well as cocktails made with spirits produced on site.
What are your plans for the future?
The long-term plan is to have both a physical and a community presence in a number of cities throughout Indiana. We certainly would look at the possibility of having taproom-type facilities in a number of cities around the state. We have 350 community partners (charitable organizations with which Sun King has a relationship), most of them currently in central Indiana. But I think we have a long-term interest in expanding that. And likewise, I think they're going to be participating at various levels in something like 750 events this year. Again, that's almost all in central Indiana. But I think we'll be growing that presence as well.
What's Sun King's revenue?
This year, I think we'll do somewhere in the neighborhood of $12 million. As far as the future goes, I don't think I've got my arms around this thing enough to be able to give a number yet. I'm still kind of formulating what would be mid- and long-term goals in that regard.
What's your favorite Sun King beer?
I would say that my go-to beer, year round, is Osiris Pale Ale. But having said that, I'm very prone to seasonal beers. So my tastes change throughout the year. Generally, somewhat lighter beers in the warmer months and somewhat fuller-flavored beers in the cooler months. I definitely experiment, and I try every beer here. I think, over the history of the company, they've made somewhere north of 300 different beers.•
Click here for other interviews.
Please enable JavaScript to view this content.