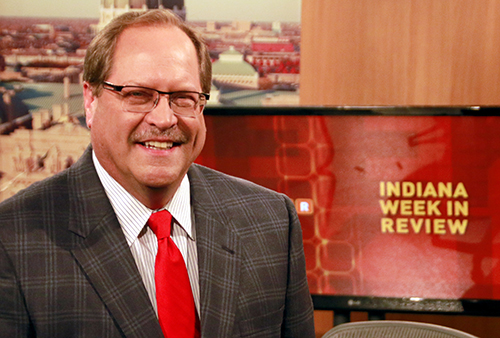 Jim Shella is pulling the plug on his 40-year broadcast television career.
The well-known WISH-TV Channel 8 political reporter—who also has hosted "Indiana Week in Review" on WFYI-TV Channel 20 for the last 25 years—told IBJ he will be retiring after the November election.
His contract with WISH runs through mid-December, Shella said, but he plans to use his remaining vacation time after the upcoming election. His last day at WISH will be Nov. 11.
Shella said his last appearance on "Indiana Week in Review" will be Nov. 18.
"It occurred to me that at my age and experience, it was a really good time to sign off," said Shella, 62, who has covered 14 national political conventions. "It wasn't a difficult decision."
It's not clear what will happen to the weekly WFYI show given that not only does Shella moderate, produce and guide the show's overall direction, but WISH also supplies much of the video it features—often from stories Shella covered for the station. Shella told IBJ that WFYI already has begun interviewing potential replacements.
Joe Abouzeid, interim general manager at WISH, said in a statement that Shella "has been a staple in Hoosier homes and Indiana politics for more than three decades."
"His dedication as journalist is second to none," Abouzeid said.
Shella is departing WISH as its parent company, Media General Inc., is about to be acquired by Nexstar Broadcasting Group Inc. But Shella said he is not being forced out. In fact, he said he was offered another contract.
Shella said he has had his sights set on retirement since he signed his last three-year contract with WISH in 2013.
"My intention at the time was that this [election] would be the capstone on a 40-year career in broadcast journalism. I think 40 years is enough for anyone," Shella said.
Shella told IBJ that "family considerations" are a factor in his retirement decision and he looks forward to spending more time with his wife, Connie, and their 38-year-old daughter, Katherine.
The Jasper, Minnesota, native joined WISH in 1982 as a general assignment reporter.
"That lasted three weeks," Shella said through a laugh about his general assignment status.
In December 1982, WISH assigned Shella to cover a special session of the Indiana General Assembly, and he's been a Statehouse fixture and WISH's political go-to guy since.
"WISH has been very good to me," Shella said. "I've stayed this long because WISH allowed me to focus on politics and elections, and you don't see that at other stations."
Shella became one of the best-known reporters at the Statehouse., heightening his status by guiding the discussion on "Indiana Week in Review," which covers state and local politics.
"If there was an Indiana political reporters' hall of fame, Jim Shella would be going in immediately on the first ballot," said Mike McDaniel, a former Republican state chairman and a regular on "Indiana Week in Review" for 21 years. "He's among the best—and I'm not just talking about TV reporters—of any political reporters."
Former Indiana Democratic Chairwoman Ann DeLaney said Shella was known for a wicked sense of humor, booming laughter and an irreverence that made him unafraid to ask difficult questions.
"He has the memory, institutional knowledge and lack of reverence to be an effective Statehouse reporter—the dean of Statehouse reporters," said DeLaney, who has been a regular on "Indiana Week in Review" since Shella started with the show. "He has a healthy dose of skepticism. He's not afraid to let that show. So he asks better questions and as a consequence, gets better stories."
Shella recently broke the story that Mike Pence was traveling to New York, where he was named Trump's running mate, the station said. Other major stories he broke include Dick Lugar's decision to run for president in 1996 and Mitch Daniels' selection as president of Purdue University.
Shella has covered six Indiana governors and has interviewed President Barack Obama, Hillary Clinton, Donald Trump, George H.W. Bush, Ronald Reagan and Dan Quayle, among many others. 
DeLaney said there isn't a state lawmaker that doesn't know—and respect—Shella. But his appeal goes beyond that, she added.
"He will be missed far beyond the Statehouse," DeLaney said. "I get comments from the grocery clerk and the mailman about the topics we discuss on 'Indiana Week in Review.' Those are the people that Jim has helped bring the issues to.
"Through his reporting on [WISH] and his role with 'Indiana Week in Review,' he helps to drive the discussion on important topics across the state," she added. "He's been able to frame the discussion for 25 years. That's a pretty significant impact."
Before coming to WISH in 1982, Shella worked as a reporter for WOTV-TV in Grand Rapids, Michigan. He began his career at WMT-TV in Cedar Rapids, Iowa.
Shella attended St. Cloud State University, where he graduated with a bachelor of arts degree in mass communications.
While at WISH, Shella received the Larry Conrad Award from the Indianapolis Press Club, as well as numerous Associated Press, UPI and SPJ awards.
Shella said while he's retiring from full-time work, he's leaving the door open to other opportunities.
Shella said there's a possibility he could make special appearances on WISH "to make commentary on political events."
Shella also said he's been approached about taking other positions.
"I've had overtures," he said. "I haven't pursued anything. I won't say I won't try something else, maybe on a part-time basis. I just think it's time to pursue a new chapter."
Please enable JavaScript to view this content.