To pay for a shiny new downtown hospital, the parent corporation of Wishard Health Services will commit itself to yearly debt payments 10 times as high as they are now.

But Wishard officials have no doubt they can bear the extra load because of places like Rosewalk Village, a nursing home that sits on the eastern side of Indianapolis.

The low-slung brick building with pale yellow trim, green shutters and well-tended shrubs houses one of 35 long-term-care businesses acquired this decade by Wishard's parent organization, Health & Hospital Corporation of Marion County.

Rosewalk Village, like many of Health & Hospital's nursing homes, had a woeful quality record before the purchase, so much so that the Indiana State Department of Health had formally threatened to revoke the facility's license.

Health & Hospital's management company ditched the facility's old name, Pine Tree, because health care professionals bitingly referred to it as "Pine Box"—the place people go to die.

But now Rosewalk Village is getting above-average quality scores, its occupancy has nearly doubled, and it's generating healthy profits. Health & Hospital's nursing homes last year threw off $43 million in cash.

Gutwein
Now the organization can apply that money to the new $754 million hospital, which will require annual debt payments of $38 million to $42 million.

"We have bought some of the worst nursing homes in the state of Indiana and turned them around," said Health & Hospital CEO Matt Gutwein, noting that his own grandmother lives in one of the group's nursing homes.

Health & Hospital announced July 12 that it would borrow up to $703 million to build a new Wishard hospital on the IUPUI campus, replacing its aging complex of 17 buildings at 10th Street and University Boulevard.

'Incredibly conservative'

Gutwein is taking great pains to demonstrate Health & Hospital's financial strength because he needs voter approval to borrow the money to build the hospital.

And he's promising that Health & Hospital, which is partly supported by Marion County property tax revenue, will have no need for a tax increase.

Cost overruns in 2005 on an expansion of the Central Library downtown soured the public mood. Then, increases in property and income taxes that hit many residents in 2007 sparked outright protests.

Health & Hospital's bonds will not be paid off by any additional taxpayer dollars—as long as everything goes according to plan. But Marion County taxpayers will stand as the backstop for the bonds, should Health & Hospital fail to pay, which is why voters must approve the deal in a November referendum.

Health and Hospital officials insist there's no reason to worry.

For example, their plan calls for using $130 million in cash, even though Health & Hospital already has $150 million in the bank to use on the project.

In addition, a feasibility study found Health & Hospital could raise $50 million from the community for a new Wishard. The hospital's fund-raising arm will launch that campaign soon, but Health & Hospital's plan counts on no money being raised.

And Health & Hospital estimated it would pay more than 6 percent interest on the bonds—even though rates currently are running a bit above 5 percent. It also qualifies for lower-interest Build America bonds authorized under President Obama's stimulus plan.

Last, Health & Hospital's financial calculations assume it borrows all $703 million at once, which would raise its total borrowing costs. But building projects always borrow money in phases as construction progresses.

"Even under those numbers, we can pay the debt service without a tax increase," Gutwein said, calling the financial calculations "incredibly conservative to the point of unreasonable."

Strategy pays off

Such confidence is a complete turnaround from when Gutwein took the helm of Health & Hospital in December 2002.

The organization lost a whopping $77 million that year, and was in real danger of having to close Wishard hospital.

Health & Hospital launched its nursing home gambit in January 2003 when it spent $9.7 million to buy 12 nursing homes—including Rosewalk Village—from a company affiliated with Indianapolis-based American Senior Communities LLC.

The nursing home management company had been trying to turn around the facilities for a couple of years, but lacked the capital to do it. So Health & Hospital promised to invest $1.7 million a year to improve the homes and hired American Senior to keep managing them.

The nursing home strategy played a key role in turning Health & Hospital's finances around, as did cost-saving measures at Wishard, aggressive billing-and-collection practices and special payments from the federal Medicaid program for treating inordinate numbers of indigent patients.

In 2005, Health & Hospital recorded a surplus and hasn't dipped into the red since. Plans for a new hospital began to take shape shortly thereafter.

Government reimbursement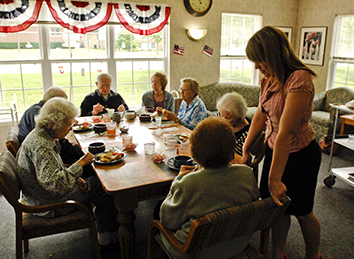 Residents enjoy lunch in one of the dining rooms at Rosewalk Village in Indianapolis.
Health & Hospital's secret to making its nursing homes so profitable has been knowing how to handle the Medicare and Medicaid programs, which pay for the lion's share of nursing home care across the nation.

Medicaid, a state and federal partnership, pays the lowest rates and covers the most patients. But Health & Hospital, because it is a governmental organization, qualifies for "enhanced" payments.

In addition, Health & Hospital has tailored its nursing homes to attract short-term rehabilitation patients, for which the federal Medicare program will pay—at significantly higher rates than Medicaid.

About 30 percent of Rosewalk Village's patients are short-term rehab patients. They account for nearly all the facility's profits, said Dan Benson, chief operating officer of American Senior Communities, manager of Rosewalk Village and Health & Hospital's other nursing homes.

To serve those patients, Rosewalk Village cut out six patient rooms in order to have a separate dining room and common area—complete with indoor bird habitat and Hammond-style church organ—for the short-term patients. That's because they like to be separate from the "for-life" patients.

Health & Hospital also replaced linoleum flooring with shiny wood laminate, which brightens the décor and gives the place a higher-end feel.

"[Health & Hospital was] committed to quality above net income," Benson said. "And now they're getting net income as a result of the quality."

Virginia Gerber, 91, came to Rosewalk Village as a short-term patient in September 2007, on the recommendation of staff at Community Hospital East, which sits across the street from Rosewalk Village.

Now she's living there indefinitely, since her idiopathic neuropathy flared up last year.

She and her husband had checked out several other nursing homes. Rosewalk Village wasn't the best on all fronts—she liked the food better at another home, yet found it too dark—but decided it was the best overall choice.

"This is a good place to be for someone in this condition," she said, sitting in her wheelchair in the short-term common room.

Attracting and keeping patients like Gerber has helped Wishard's nursing homes earn profits of 17 percent of revenue before depreciation, amortization and interest expenses. Jim Utterback, a long-term-care attorney for Bose McKinney & Evans in Indianapolis, said most Indiana nursing homes have margins less than half as large.

"Wishard has taken its learning and applied it to nursing homes," Utterback said. "It's a smart thing to do."•