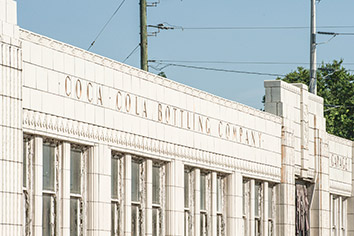 West Elm, the housewares brand owned by Williams-Sonoma Inc., said Monday that it plans to open a boutique hotel with at least 120 rooms and a rooftop bar in the former Coca-Cola bottling plant on the north end of Massachusetts Avenue.
Brooklyn, New York-based West Elm said the hotel is one of five it plans to open starting in late 2018 as part of a diversification beyond running its 93 retail stores. The other hotels will be in Detroit, Minneapolis, Charlotte, North Carolina; and Savannah, Georgia.
Wisconsin-based developer Hendricks Commercial Properties, which earlier this year beat out five other bidders for the right to redevelop the former Coca-Cola plant, has said it wanted to attract a hotel as one component of a massive, $260 million overhaul of the property. Hendricks CEO Rob Gerbitz was not immediately available for comment Monday.
West Elm, which has its only Indiana store at the Fashion Mall at Keystone, joins a growing faction of retailers seeking to hedge their bets by looking beyond mall stores for growth. Though West Elm has been the best-performing division of Williams-Sonoma, the expansion into hotels would make the company less reliant on an often-shaky retail industry.
Others are making their own efforts to diversify: Urban Outfitters Inc. agreed to buy a pizza chain last year, and Barnes & Noble Inc. is opening new concept stores with restaurants attached.
For West Elm, the idea is to build a lifestyle brand. The new hotels will be furnished with pieces that reflect the chain's modern aesthetic, as well as local decor from the region.
"We've created an active bond with our customers that can extend beyond home and work," Jim Brett, West Elm's president, said in a statement.
The retailer includes local designers in its store assortments and has pledged to make 40 percent of its assortment Fair Trade Certified by 2019. The retailer also has teamed up with upstart companies like Casper, which sells mattresses online.
The approach has helped West Elm outshine the other divisions of San Francisco-based Williams-Sonoma. Its same-store sales jumped 16 percent last quarter, compared with a 4.8 percent decline for Pottery Barn and a flat performance for the Williams-Sonoma brand.
Please enable JavaScript to view this content.