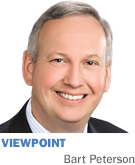 Indiana prides itself on being the Crossroads of America. And it should. The ability to connect to half the U.S. population in just a day's drive is a huge part of the economy here.
But to succeed in the 21st century, we need to be a crossroads of much more. We need easy access—and we need to be easily accessible to—markets, ideas, capital and talent from coast to coast and around the world. Those are the four elements of the new connectivity economy.
We're seeing progress on each of those fronts. But we also can—and must—do a LOT better.
IBJ reported in its July 25 issue that the number of nonstop flights from Indianapolis International Airport has surged from 19 a year ago to 41 now—including such major business destinations as Boston, Dallas, Los Angeles, San Francisco and, next year, Seattle.
Those nonstop flights open new markets to any local firm selling goods and services. For instance, if you're an IT firm with an innovative new program, you're likely to get more sales if you can easily pitch to firms in both Carmel and California.
That means more revenue flows to Indiana. It also means more people—including investors, inventors and workers—can get to Indiana, bringing their ideas, money and talent here.
To be a world-class economy, Indiana must be able to draw from—and contribute to—the great thinking of the world. So how is Indiana doing on the ideas front?
Indiana inventors secured more than 2,000 patents last year—twice as many as they did in 2008, according to Pellegrino & Associates.
Research funding proposals to federal agencies from Indiana surged nearly 40 percent from 2006 to 2015, according to the National Science Foundation. That was more than double the pace of growth nationally. And awards granted in Indiana rose 25 percent over the same period, compared with an 18 percent rise nationally.
Ideas don't become thriving businesses, however, without capital. As IBJ reported in July, a dozen companies here secured pledges of more than $50 million in venture capital during the first half of this year. That's up from 2013, but still far less than the amounts that keep the nation's hotbeds of innovation humming. We need more venture capital to turn ideas into large numbers of high-paying jobs.
That also assumes, of course, that we have the talented workers here to fill those jobs.
Just one of three Hoosier adults holds an associate's or bachelor's degree—ranking 40th among all states. However, when it comes to workers with graduate and professional degrees, the Indianapolis area's concentration of those highly educated residents ranks ninth nationally, according to 2014 research by Cleveland State University.
Another encouraging sign is that a bevy of IT companies have expanded—including San Francisco-based Salesforce. Just last month, California-based Genesys suggested it would further invest in Indianapolis after it acquires local software firm Interactive Intelligence.
So, yes, we're making progress. But we're also at risk every day of losing it.
Our city and state leaders need to double down on investments in the four elements of the connectivity economy—markets, ideas, capital and talent. If they do, Indiana will grow into an even more prosperous crossroads in the 21st century.•
__________
Peterson was mayor of Indianapolis from 2000 to 2008 and is now senior vice president of corporate affairs at Eli Lilly and Co.
Please enable JavaScript to view this content.