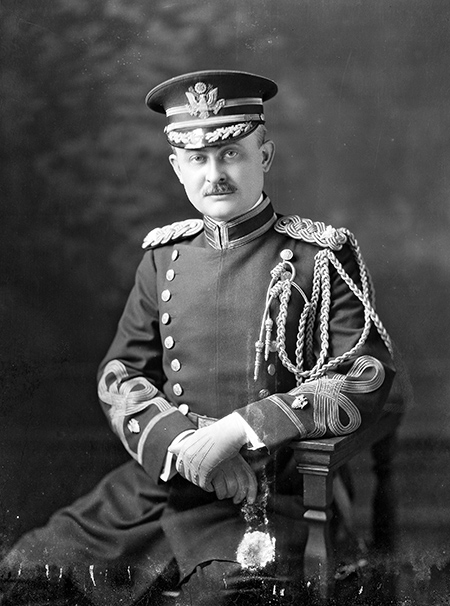 One of the proudest legacies of Indiana's centennial celebration, yet to be equaled by its bicentennial, was the creation of the state park system. The individual most responsible for this feat hailed not from Indiana but from Germany. His name was Richard Lieber.
Lieber was born in the Saarland region along Germany's western border in 1869 but decided to visit Indianapolis at the age of 21, in part because two of his uncles already resided here. One of these uncles, Herman Lieber, was a brewer and manufacturer who supported Hoosier impressionist T.C. Steele's art studies in Munich.
Lieber worked first in a hardware store, then as a reporter for the Indiana Tribune. It was not long before he met and fell in love with the publisher's daughter, Emma Rappaport, and decided to stay in Indiana. He succeeded in a variety of businesses, including beverages and insurance.
Lieber's life-long commitment to conservation took root around 1900, when he visited Yosemite National Park and the Rocky Mountains. He attended a 1908 White House conference convened by Theodore Roosevelt, and later served as local chairman of the Fourth National Conservation Congress.
Though lacking any state funding, Lieber proposed that the state's 1916 centennial should be celebrated through the creation of a state park system. The first two state parks, McCormick's Creek and Turkey Run, both opened in December of that year.
Reflecting on this beginning, Lieber expressed the hope that "we have laid the foundation for a comprehensive system of state parks which will stand forever as a token of the past but also bring health, wealth, and happiness to our own generation as well as the many that will come after us."
The onset of U.S. involvement in World War I brought a sharp rise in anti-German sentiment. Despite having multiple relatives in the German army, Lieber was appointed military secretary to the governor, James Goodrich, and given the title colonel, by which he was often addressed thereafter.
Lieber convinced Goodrich to create a commission that would coordinate conservation efforts throughout the state. He served as the commission's chairman until 1933, at which point 10 state parks had been created. Today, that number has expanded to 25.
Lieber believed the state parks needed to be as self-supporting as possible, and urged that they charge an admission fee, in part because he knew state funding would be hard to come by. He also introduced state park inns, which generated revenue through guest fees.
Outlining his rationale, Lieber wrote, "The visitor who uses a particular park and gets the immediate benefit from it should contribute toward the cost of its operation and preservation. Those things which are furnished to us free of charge are ill-used, abused, and unappreciated."
Both Lieber and the Indiana state park system became national models. He was often called on to advise other states, and soon his advice was being sought on national conservation efforts. He helped organize the first national gathering of state park personnel at Turkey Run in 1921.
Lieber could wax eloquent in promoting conservation: "Like mighty alters of the Master stand our parks—masterpieces of creation and the crowning glory of our land's rich storehouses of memories and reveries. Let us keep them as a sacred inheritance, and so transmit them to future generations."
Fittingly, Lieber died in 1944 while vacationing at McCormick's Creek, and his ashes are buried at Turkey Run. By the time of his death, Lieber had become perhaps the nation's most influential advocate for the conservation of natural resources.•
__________
Hoosier Beacons pays tribute to Indiana's bicentennial by telling the stories of famous Hoosiers. It appears every other week. Gunderman is chancellor's professor at Indiana University.
Please enable JavaScript to view this content.