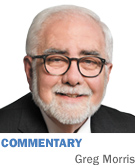 Aggressive panhandling downtown is out of control, the worst I've seen in the 20 years IBJ has been at Washington and Pennsylvania streets. I've experienced more harassment in this calendar year than in any previous year, and I've had more complaints from staff members and other downtown workers than in any other.
It's not unusual to be approached three or more times over one or two blocks. When I say approached, I mean it's not uncommon for someone to invade your personal space head on. Sometimes it's a quick move from the other side of the sidewalk or simply being shouted at by someone who is sitting or standing nearby.
As a company, we've made more calls this year than ever before to law enforcement to make them aware of acts of aggression by panhandlers in the immediate area around our building and surface parking lot.
Beyond the public safety aspect, frequent aggressive harassment can make downtown workers not want to work downtown. It can cause visitors from near or far to reconsider coming downtown. It can make convention planners not want to book their event here. I know city officials have a lot of important tasks and priorities in today's troubled world. But if the city wants to keep downtown vibrant and growing, this issue needs to be taken seriously.
If you want to fight the "flight to the suburbs" by downtown companies, crack down on aggressive panhandling.
In the past 60 days, I was followed to my car by someone who asked for money in a very aggressive manner. He got so close that I had to open my car door fully to put a barrier between us. He continued to ask me for money and, when I refused, got highly irritated. I asked him to please take a step back, and we had a short staring match before he retreated and walked away.
Within the past few weeks, for the first time ever, I was approached at an ATM at about 11:30 a.m. A 20-something male walked right up to me and asked for loose change and then changed his request to a "dollar or two." I said no and advised him to never approach anyone while they were at an ATM. He persisted and proceeded to tell me I obviously had plenty of money and could give him a few bucks. I was upset enough to pull out my phone and respond loudly—"the answer is NO and I'm about two seconds away from calling 911."
At that point, the panhandler walked so close behind me that he almost brushed my back as he passed, and he paused once he had passed me. He gave me a stare, then called me every name in the book. He then kept walking and continued to shout obscenities at me all the way down the street.
The city has been wrestling with this problem for decades. And every time we get serious about putting a stop to it, something always prevents action—a lawsuit, or misplaced concern for the homeless. Homelessness and panhandling are two very different problems. Occasionally the two intersect, but not often.
Yes, there's mental illness on the streets. I see it every day. I can tell you the story of a young man with mental issues who was causing problems in Columbus, Ohio, and was placed on a bus with a one-way ticket to Indianapolis just to get him out of town. Soon after arrival in our fair city, he collected some loose concrete in a backpack and tossed it through a large plate-glass window on the ground floor of our building. After being arrested, he now has a place to stay and gets three meals a day. It's about survival. Many people are suffering and they need help and compassion. As a society and as a community, we should help people in need.
However, in most cases, aggressive panhandling has nothing to do with these issues. We're putting more police on foot patrols in troubled Indianapolis neighborhoods, which is a great strategy. It also would be great if we could find the money to put more foot soldiers on streets in the Mile Square.•
__________
Morris is publisher of IBJ. His column appears every other week. To comment on this column, send email to gmorris@ibj.com.
Please enable JavaScript to view this content.