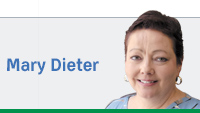 How can it be? How is it remotely possible that voters in this great country are evenly divided between the two major party candidates for president?
On one side is a racist, misogynistic, egomaniacal, anti-intellectual, thin-skinned, bullying, juvenile and impulsive pathological liar who admires dictators, has fascist tendencies, apparently believes in eugenics, denies global climate change, has said he'd like to date his daughter, is an accused sexual predator, won't release his tax returns, and wonders why America is reluctant to use a nuclear weapon.
On the other side, is … well … a woman. One who has spent a lifetime serving others, demonstrably improving their lives, and who has been objectively judged to be the most honest candidate in this election cycle but whose work and character have been smeared by opponents who have been wildly successful at branding her as untrustworthy. Is it a partisan thing? A Clinton thing? A woman thing?
For that matter, how can anyone who prizes civil society support a candidate who uses charitable contributions to pay legal bills and buy a portrait of himself? How can people who barely make ends meet support someone who boasts of profiting off the misery of nine million Americans who lost their homes? How can people who dutifully file their taxes support someone who says he's too smart to pay taxes? How can evangelicals support someone who, as Christian author Philip Yancey put it, "stands against everything that Christianity believes?"
Is it that some believe Donald Trump's claim that America is no longer great and think he is the messiah? How can they believe anything spoken by a man whose dishonesty, as one writer put it, "has become such a regular feature of his rhetoric as to be unremarkable?" Have they, as another wrote, become "so acclimated to his cruelty that they've stopped noticing it?"
How can Americans be so disaffected that they are willing not only to vote against their own interests but also refuse to heed warnings from economists, scientists, military experts, political leaders and other thought leaders that a Trump presidency will spell disaster for the nation and the world?
The scary part is that the more ivory-tower dwellers and opinion writers warn against Trump, the more these alienated Americans seem to embrace him. As he sniffed and sneered and stumbled and lied his way through the first presidential debate, demonstrating a distressing dearth of solutions and woeful lack of preparation, he seemed to endear himself to others who, like him, willfully choose ignorance and smugly refuse to be confused by the facts.
His supporters' minds are made up. No debate debacle, no sleazy scandal, no ribald revelation will change the minds of people who refuse to hear. The only hope is that a massive get-out-the-vote effort by the Clinton campaign will bring out enough thinking people who care for their country to swamp the Trump devotees.
But here's a sobering thought: Even if Trump is stopped next month, what becomes of a country where half of its citizens are so openly hostile to the new president? Where emotions have been inflamed, fears have been stoked, rage has become acceptable and hatred for the other has been spewed in ways not seen for decades? Even in defeat, Trump may be a harbinger marking the beginning of the end of a country formed on the basis that all people are created equal and are entitled to life, liberty and the pursuit of happiness.•
__________
Dieter, a writer and an editor, is the former Statehouse bureau chief for The Courier-Journal and press secretary for Gov. Frank O'Bannon. Send comments on this column to [email protected]
Please enable JavaScript to view this content.