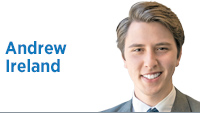 The painful evolution of a young democracy provides needed context to the political Zeitgeist of the United States. I recently interviewed Dr. Rui Araújo, prime minister of Timor-Leste, during his brief visit to Indiana University.
An East Asian island nation of just more than a million people, Timor-Leste is entering a new generation of political leadership. Just 15 years old, the country is "still a teenager," says Araújo, who is insightful and soft-spoken.
His visit was billed as a story of political and economic progress. Part of a larger diplomatic venture, Araújo's address to the university focused primarily on current affairs and public policy.
During our interview, Araújo highlighted the role of other nations in aiding his nation's development. As we in the United States enter the final stretch of a tumultuous presidential race, Araújo raised a point we too often ignore: The world still looks to America.
"The whole world is looking to the US … particularly because the United States plays such an important role," he said to me. "Whichever the choice of the people will be, the United States will still be an important player in the world."
Despite the numbing uncertainty we face in the months ahead, we will endure as the world's greatest force for good. Regardless of direction we take this November, our role as a beacon of hope and prosperity will remain.
Perhaps this comes by design of our Founders. Our government is limited to ensure our greatness as a nation is not. No matter our next president, as Araújo aptly states, America will continue to grow and prosper.
Timor-Leste too was founded through a long, bloody struggle for independence. Occupied by Portugal, Japan and Indonesia for all but a year of the past century, the nation could not chart its own path until 2001.
The following decade would be characterized by international border disputes, political frustration and social unrest. This culminated in several assassination attempts, including the non-fatal shooting of founding father and then-President José Ramos-Horta.
Timor-Leste is still economically lagging behind other nations in the region and over half of Araújo's people live in extreme poverty. As crude prices remain significantly low, the International Monetary Fund recently named Timor-Leste the most oil-dependent country in the world.
Despite these continued struggles, Araújo holds out hope for continued development. To continue the progress of the past 15 years, he looks to the leadership and guidance of the United States and China specifically.
Arguing for a complementary relationship, Araújo hopes the next U.S. president will take steps to ensure greater cooperation with China in East Asian trade promotion. He notes that when the world's two leading superpowers work in concert, nations like Timor-Leste stand to gain a great deal.
At a time when many are outright embarrassed by the candidates running for our nation's highest office—the leader of the free world—Araújo's words are a reminder of our global responsibilities.
Because of our unique shared history and values as Americans, we have a unique capacity to lead across continents. That is a quality no one politician can take away.
As a nation we too should look past November with a sense of optimism. No matter the next president, we will continue to provide significant political and economic stability in the world. More importantly, we will endure as a model for promoting prosperity, empowering individuals and guaranteeing liberty.•
__________
Ireland is a college Republican at Indiana University. Send comments on this column to ibjedit@ibj.com.
Please enable JavaScript to view this content.