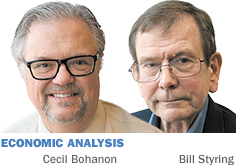 Back in 1996, Hoosiers voted to allow state public employee pension funds to invest in common stocks. The constitution had previously allowed only bond investments. This was certainly a prudent decision. Previously out-of-bounds but potentially higher-yielding investments were made available to fund managers. Around 2000. the pension investment managers began buying private equities, including some from Indiana firms.
Currently, there is a suggestion that our public pension fund managers dedicate some of the $25 billion in assets to Indiana firms only. It is argued this will spur economic development. We are all for economic growth in Indiana. We are all for good returns to investment for state pension funds. But this is a Bad Idea.
A pension fund has a fiduciary responsibility to one group of people: current and future retirees. Its responsibility is to pursue their best interests. Period. Pension managers already have the option of making an Indiana investment if it is the best choice. Voters rightly decided back in 1996 that more investment choices best serve retiree interests. To now artificially restrict some portion of retirement investments to Indiana companies is a step backward. If the Indiana investment is the best available, by all means make it. Otherwise, force-feeding Indiana companies over non-Indiana alternatives is a breach of fiduciary duty.
It is also likely an "Indiana only" mandate would be, or would credibly appear to be, politicized. Political contributions will always be made, but if it's a local company, there will be a whiff of buddy-buddyism. Even if there's no hanky-panky, there will inevitably be suspicions. In the current climate of disrespect for government entities, our public institutions don't need another source of distrust.
Finally, Austrian economist Joseph Schumpeter described another investment phenomenon he called "swarming"—piling into a small set of investments that seem like a good idea at the time but end up a disaster. IBJ chronicles many up-and-coming Indiana companies. Even so, it's possible for an Indiana-only fund to run low on good options. Indiana Chinchilla Hide & Ostrich Meat Inc. doesn't belong in a retirement portfolio.
Getting the political class involved in making "economic growth" retirement investments would surely lead to much mischief. It would be like giving whiskey and Ferrari keys to teenage boys. Our leaders should think this one over very carefully before making the leap.•
__________
Bohanon is a professor of economics at Ball State University. Styring is an economist and independent researcher. Both also blog at INforefront.com. Send comments to ibjedit@ibj.com.
Please enable JavaScript to view this content.