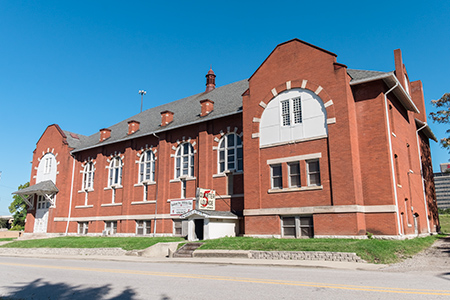 Built in 1900, the former Southside Turnverein building made the Indiana Landmarks' Ten Most Endangered list largely because of a bas-relief sculpture on the west gable of the building at 306 E. Prospect St., just east of Madison Avenue and just south of Interstate 70 adjacent to an Indianapolis Park Ranger station.
The sculpture has started to crumble. In some places, metal rods protrude where pieces have fallen off.
The building was designed by historic architectural firm Vonnegut & Bohn. The sculpture was created by Rudolf Schwarz, who also made the sculptures for Monument Circle's Soldiers and Sailors Monument.
"That [Turnverein] sculpture really is a community treasure that we should save if we can," said Mark Dollase, Indiana Landmarks' vice president of preservation services.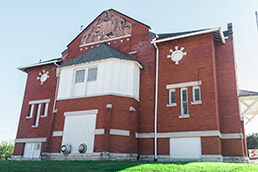 A sculpture on the building's west side is badly damaged, and some pieces of it have fallen off. (IBJ photo/Eric Learned)
The Turnverein served as a German cultural center until its operators sold it in the 1980s to current owner Tony Elrod, who worked with partners to fix up the building and restore the gymnasium for use as a basketball court.
Elrod still rents out the court for basketball games and the basement houses a bar called the Fifth Quarter.
The problem as Dollase sees it: Basketball rentals and a basement bar aren't likely generating enough revenue to keep up the building as it should be, including repairs to the sculpture.
"It's unlikely that the gentleman who owns it is going to invest his limited resources into something like that," Dollase said.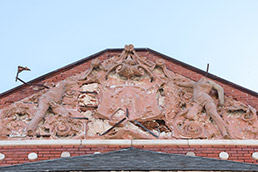 The artwork was created by artist Rudolf Schwarz. (IBJ photo/Eric Learned)
Elrod told IBJ he would be willing to sell the building but hasn't had an offer. He also said he's gotten estimates to fix the sculpture, which range $100,000 and up. The entire property is valued at $169,500, according to the Marion County Assessor's Office.
But change may be in the air, according to the leader of the community development corporation in that area.
Southeast Neighborhood Development Inc., or SEND, owns a parcel of undeveloped land just south of the Turnverein. SEND President Paul Smith said a developer approached him several weeks ago to express interest in both SEND's property and the Turnverein.
Smith declined to name the developer, but said the party "has shown a good reputation for being able to do these kinds of deals."
The developer indicated a desire to keep the Turnverein standing, Smith said, but did not specify what might happen with the site.
Dollase said Indiana Landmarks stands ready to assist the property owner with the sculpture restoration.•
Please enable JavaScript to view this content.