This week, our exploration of the city's cultural district dining took us to Mass Ave, where the culinary cultural
offerings just might outnumber the artsy fartsy stuff. Our destination: Bu Da Lounge (429 Massachusetts Ave., 602-3643), which
bills itself as an Asian-inspired cigar bar but is generating buzz for its sushi selection.
It's an odd
combination, to be sure.
On my first visit, a spontaneous drop-in early one Saturday evening, the smoke was noticeable
enough to make my companion and I beat a hasty retreat. When I eat, I like to smell food, not cigars.
So we made
our next trip at lunchtime. We ended up sitting outside, avoiding the air-quality issue altogether. And it was a perfect day
for people watching, another bonus.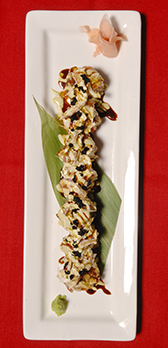 Bu Da Lounge's Four Treasures Roll, one of 10 specialty rolls on the menu, is a meal in itself.
We
started with the Bu Da Tacos ($7.75), a trio of wonton wrappers fried crispy into mini taco shells, filled with seafood—one
tuna, one salmon and one octopus—and topped with a Siracha-infused pepper and onion relish. The combination was impressive.
The fish provided the perfect contrast to the crunchy shell and the spicy topping gave the dish a nice pop.
Bu
Da Lounge's Special Rolls are the main attraction—and have the price tag to prove it at $13.95 to $15.95. I was
skeptical that they'd be filling enough to merit the expense, but I was wrong.
Following recommendations
I found on Twitter, I ordered the Four Treasures Roll ($15.95). Crab, shrimp, tuna and salmon are the namesake treasures of
this hefty roll, which is tempura fried and dressed with an onion radish slaw and swirls of eel cilantro sauce—a veritable
taste explosion.
My friend opted for the Special Spider Samba Roll ($15.95). Bu Da's version keeps most
of the soft-shell crab snuggled up with avocado inside the roll, which is topped with salmon and the same addictive cilantro
sauce.
We also ordered a Mini Veggie Roll ($7.95) to be on the safe side, but we were plenty full before we could
eat it. Of course, that didn't stop us from giving it our best effort, stopping just short of inhaling the tasty asparagus
tempura topped with marinated squash and a sweet sauce.
Overall, it was a pleasant meal, the result of excellent
food and good company. I definitely see another Four Treasures Roll in my future. But only if I can eat outside, away from
the smoky bar.•
__________
Third in our month-long exploration of new restaurants in the
city's cultural districts.
Please enable JavaScript to view this content.