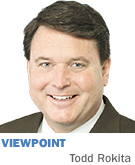 Last month, ITT Education Services became a casualty in the ongoing and intense liberal assault on profit-making, which this time is carelessly putting thousands of students' educations in jeopardy. While it is obvious that the U.S. Department of Education's unreasonable actions (the department doesn't take the same draconian approach toward public institutions that actually have terrible records) caused ITT to shut down, the IBJ's editorial board decided to blame only ITT's business decisions.
I am not advocating that ITT business decisions were flawless, because I really do not know either way. Neither does the IBJ. And that's the point. Nothing has been proven against ITT by any impartial judge or jury. What I do know is that neither ITT, nor any business, could bear the crushing weight of the decrees issued by unelected activists holed up in some of the federal bureaucracies that have taken over our lives, both corporately and individually. These increasingly common tactics by such activists have far-reaching implications for all business, not just the for-profit education sector.
That someone might make a profit, particularly in education, is anathema to most left-wing ideologues and it goes hand-in-glove with their disdain for the private sector generally. But regardless of the business classification, profit is made in education at all levels.
For example, public university presidents saw their salaries rise an average of 7 percent last year without any uproar from these same bureaucrats. Some of these taxpayer-funded presidents even pocketed over $1.5 million each just last year alone.
The left's ideology leads to other very hypocritical rhetoric and actions. For example, many public schools, like our own Ivy Tech Community College, suffer from much lower graduation rates and job placements than found in ITT's record, but such institutions never receive the kind of torment for-profit colleges have incurred over the last eight years. If this administration's chief concerns were low graduation rates and increasing student debt, wouldn't it have made sense to at least afford those schools being subsidized with taxpayer dollars the same scrutiny as for-profit ones?
This hypocrisy has continued into other department regulatory actions. The gainful-employment rule, which is intended to measure employment and salary outcomes, effectively applies only to for-profit institutions, not their public counterparts, and puts their federal funding in jeopardy for not meeting the dictated number. The department has also created a Student Aid Enforcement Unit without any evidence showing it to be something other than a for-profit witch hunt.
This history of disparate treatment of for-profit schools and the complete lack of due process is why I sent a letter this month to the Department of Education, demanding answers to questions that will illuminate and document the process and any biases that played a role in the targeting of ITT Tech. Knowing the answers to these questions is the only way to make sure we can effectively fight against this executive branch overreach and prevent more students from being forced into this kind of situation.
This is not my nor Congress' first action. We have been exposing the department's hypocrisy for a few years now and have passed legislation in the House to push back.
While no school is perfect—whether it's for-profit, not-for-profit, public or private—colleges like ITT have long been providing Hoosiers with flexible education options for obtaining the skills demanded by today's job market. I will continue to call out the opportunity-limiting behavior and rules of bureaucrats, as we are extremely over-regulated in education and every other sector.•
__________
Rokita is a Republican representing U.S. House District 4. Send comments on this column to ibjedit@ibj.com.
 
Please enable JavaScript to view this content.