After I discovered it one summer, Lincoln Amphitheatre quickly became one of my favorite theaters in the state. Nestled
in a state park in Spencer County, the covered-but-still-outdoor theater's anchoring attraction was a show about young
Abraham Lincoln, who spent his formative years just yards away.
I never saw that historical production, though.
Instead, I timed my trips to catch each year's "other show"—always a mass-appeal musical.
One summer it was a well-sung "Big River." Another year it was a fun "Music Man" with a strong
supporting cast. There was a "Sound of Music" where an added kick came from seeing the nuns make a long, long
entrance from the woods that surround the stage. And there was an "Oklahoma!" so outstanding that I saw it three
times. Not only was the dancing exuberant and the performers charming and true, but the wide open space of the theater—and
the natural beauty surrounding it—supported the show's themes of optimism and fear that faced the pioneering farmers
and cowboys of the titular state.
I also liked Lincoln Amphitheatre because, combined with a visit to the Lincoln
Boyhood Home and a day at nearby Holiday World amusement park (more on that in a later column), it was a destination for a
terrific overnighter. Who can argue with education, a sense of history, time spent in the great outdoors and world-class roller
coasters all in one spot?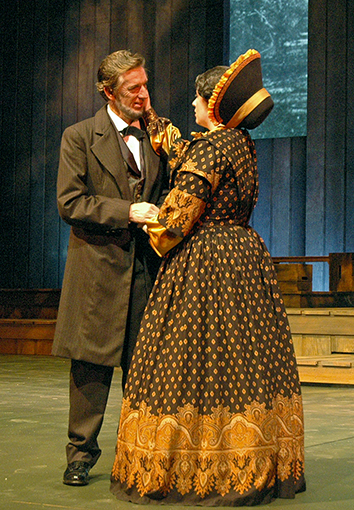 Mary Todd (Katie Horwitz ) and President Lincoln (Geoffrey Wade) share a tender moment.
The theater
shut down after the 2005 season, though, and Spencer County nights weren't quite the same.
When news came
that another Lincoln show was being commissioned for a relaunch, I knew I had to make the trek to check it out.
In hindsight, it's clear what a tough assignment the producers of the new show, "Lincoln," faced: They
had to create a theatrical experience that works as history, works as drama, pleases a general audience, and doesn't
tick off history buffs.
A nationwide search for a playwright led just across the river to Ken Jones, chairman
of the theater department at the University of Northern Kentucky. He and artistic director R. Scott Lank constructed a work
that whiplashes between episodes in the president's life in an effort to connect moments from his boyhood in Indiana
to his decisions as commander-in-chief. The device occasionally works, but more often than not it feels forced.
It's complicated by the added gimmick of multiple actors playing versions of the title character. Lincoln's
assassination is dealt with early so that the playwright can use the misguided device of having Abe's ghost consider
the key moments in his life. It's a hackneyed gimmick that leads to far too many Lincolns involved in the proceedings.
Not only do we get ghost Lincoln and adult Abe (who appears significantly older than his departed counterpart), but there
are also two versions of young Abe who aren't different enough in appearance to justify the double coverage.
The North and South are represented by a single soldier on each side—a practical idea that quickly becomes redundant.
Having a chorus of slaves serve as the glue holding the episodes together is more effective and, with rewriting, could prove
to be a major asset in future seasons. (Their muted singing of a spiritual as they walked up the hill toward the theater before
the show was the strongest emotional moment of the evening.)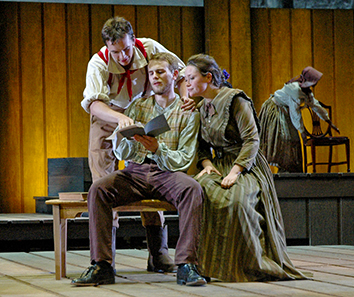 Young Abraham (Britt Reagan ) teaches John D (Timothy Brown
)and Elizabeth (Jacklyn Collier ) about cipherin'.
The new experience at Lincoln doesn't begin and end
with the show itself. Rounding out the evening is a pre-show, tent-covered fried chicken dinner from the Black Buggy Restaurant,
complete with down-home musicians and actors leading period games. Free popcorn and drinks at intermission, and a friendly
staff, are definite pluses. Tickets are $39.95 to $42.95, with discounts for seniors and students. Children 6 and under are
free.•
 
__________
Visit
ibj.com/arts for additional reviews, previews and arts discussion. Twitter: IBJarts
Please enable JavaScript to view this content.