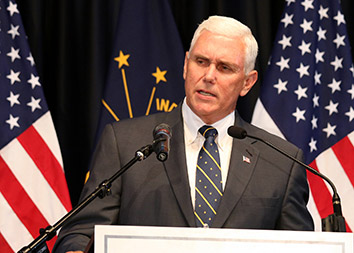 Republican vice presidential nominee Mike Pence on Saturday issued a statement saying he won't "condone" or "defend" comments Trump made about women in a newly released 11-year-old video.
"As a husband and a father, I was offended by the words and actions described by Donald Trump," he said in the statement.
He continued: "We pray for his family and look forward to the opportunity he has to show what is in his heart when he goes before the nation tomorrow night," referring to the second presidential debate, which will be at Washington University in St. Louis.
A defiant Trump, meanwhile, insisted Saturday he would "never" abandon his White House bid, despite facing an intensifying backlash from Republican leaders across the nation who called on him to quit the race following the release of the vulgar and sexually charged comments caught on tape.
In the video, which surfaced Friday, Trump talks about groping women in the "p—y," trying and failing to "f–k" a married woman, and being able to "do anything" to women because of his fame.
With Republicans from Utah to Alabama to New Hampshire turning their back on their nominee, GOP loyalists like House Speaker Paul Ryan refused to give up on Trump, who has long faced criticism from within his own party, but never to this degree.
Pence, Indiana's governor, had been scheduled to attend a campaign rally in Wisconsin with Ryan on Saturday, but now will not do so, The Associated Press reported, citing a GOP official with knowledge of Pence's plans who spoke on condition of anonymity
Trump and Pence originally both were scheduled to appear at the event, but Trump bailed out late Friday as bipartisan condemnation rained down on him over his recorded vulgarities.
Trump declared he would not yield the GOP nomination under any circumstances. "Zero chance I'll quit," he told The Wall Street Journal. He told The Washington Post: "I'd never withdraw. I've never withdrawn in my life." He claimed to have "tremendous support."
In a videotaped midnight apology, Trump declared: "I was wrong and I apologize" after being caught on tape bragging about aggressively groping women in 2005. He also defiantly dismissed the revelations as "nothing more than a distraction" from a decade ago and signaled he would press his presidential campaign forward by arguing that rival Hillary Clinton has committed greater sins against women.
"I've said some foolish things," Trump said in a video posted on his Facebook page early Saturday. "But there's a big difference between the words and actions of other people. Bill Clinton has actually abused women and Hillary has bullied, attacked, shamed and intimidated his victims."
Please enable JavaScript to view this content.