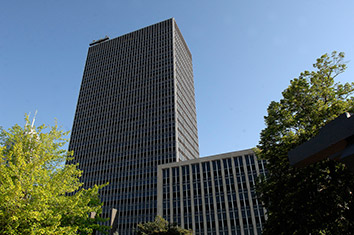 The Indianapolis City-County Council on Monday night passed a $1.09 billion 2017 budget, which will spend about 1 percent less on city services compared with this year's budget.
The budget, Mayor Joe Hogsett's first in office, sailed relatively smoothly through the public process except for a debate from Republicans about road funding, and was approved Monday night by an 18-7 vote.
Hogsett said he was grateful for the bipartisan support of the budget "to do more with less." The budget spends $8 million more on public safety than last year but holds the line or reduces spending in other departments.
 
"As a result of this vote, Indianapolis will recruit 86 new police officers, increase city support for crime prevention programming, and make substantial investments in our neighborhoods," Hogsett said in a written statement. "Most importantly, we will do all of this while cutting the budget, reducing the structural deficit and protecting our rainy day fund – without asking for one dime more from Indianapolis taxpayers."
Hogsett's administration says the budget will reduce the city's structural budget deficit to about $23 million. The budget will rely on $1.07 billion in revenue, a slight $2 million uptick in revenue from what the city expected last year.
Council members largely avoided an ongoing debate between Democrats and Republicans, led by Councilman Mike McQuillen, over transportation funding, namely regarding how to spend $20 million in local option income tax revenue that the state had in reserves and was recently returned to the city.
McQuillen had proposed spending $20 million in reserve cash on road funding immediately, while Hogsett's team wanted to hold that cash in its bank account to shore up the city savings account and to borrow for road funding requirements by essentially renewing some bonds that are about to be retired since the payments are already factored into the city's budget.
Hogsett's budget calls for spending $50 million in each of the next four years for local road projects.
Council attorney Fred Biesecker said McQuillen's proposal was out of order because spending additional money requires published notice in local newspapers and a public hearing. After a brief protest, McQuillen said he wouldn't push the issue.
But many of the council members who voted against the budget said they did so because they didn't approve of Hogsett's plan to issue up to $75 million in bonds to pay for road funding and other capital expenses, including improved infrastructure, new fire stations, new voting machines and a new police dispatch system.
"That's not frugal to me; that's not prudent," said Republican councilman Aaron Freeman.
The Council will take up questions of renewing bonds to pay for those capital expenses over the next few months.
Republican councilman Jeff Miller said he believes funding capital expenses separately is a creative idea because big capital expenses such as new buildings "creep up on you and they crush you."
"I applaud taking a very difficult situation and trying to come up with something that works," Miller said. "The bottom line is I don't have a better idea."
Please enable JavaScript to view this content.