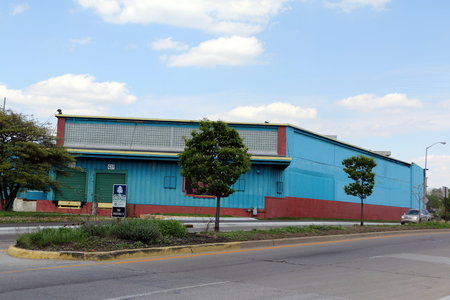 The owners of La Margarita in Fountain Square plan to open a new restaurant and bar in the Circle City Industrial Complex on the near-east side.
The Convivial Community Bar—slated to open in spring 2017—will be on the south end of the complex with a patio along East 10th Street, just off the Pogue's Run Trail.
The menu will feature some of the dishes now served at La Margarita's but will "be a unique concept in its own right," according to a statement from Jon Carlos Rangel, a co-owner.
The restaurant will serve lunch and dinner in a 2,400-square-foot space that is similar in size to its sister Mexican restaurant. It will include a curated mezcal collection, cocktail menu and what the statement says will be an "esoteric beer program." The restaurant will also feature a few pinball machines.
The 539,000-square-foot Circle City Industrial Complex is owned by Teagen Development, which is working with the Riley Area Community Development Corp. to renovate the south end of the building—a portion that is roughly 120,000 square feet. It includes a maker space that will occupy a quarter of the south end, with the rest allotted for restaurants, retailers, offices and studios. Tenants include artist studios, not-for-profit organizations, production spaces and a cycle gym.
The north end of the complex houses several manufacturers.
Rangel said his team choose the industrial complex because it has confidence in Teagen owner Larry Jones.
 "We've had a great working relationship with Larry these past five years in Fountain Square as a tenant of his [and Craig Von Deylen] in the Murphy Arts Center," where La Margarita is located, Rangel said in his statement.
"What they've done to help rejuvenate the Murphy, and Fountain Square for that matter, is something we think Larry and his Teagen team have in mind for the CCIC."
Rangel said the restaurant will cater to the residents of the area, which has seen significant development. In addition to the industrial complex, a number of new, modern homes have been built along 10th Street and North Highland Avenue. The former Coca-Cola bottling plant a few blocks away on Massachusetts Avenue is poised to undergo a $260 million renovation that's expected to bring apartments, offices, retail space, a hotel and a movie theater to the area.
Also, the fast-growing third-party logistics firm FitzMark Inc. plans to relocate its headquarters to the former Cannon IV building near the industrial complex.
"In the end, we saw something that was vibrant and being built up by hands we know, not something artificial and bought, and seldom does that chance come along," Rangel said.
Please enable JavaScript to view this content.