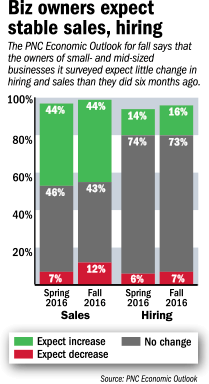 Small and midsize business owners in Indiana expect the state's economy will continue to grow at a slow and steady pace, even though they are dissatisfied with the economic plans of both presidential candidates, according to newly released data from PNC.
The PNC Economic Outlook Survey, which gathers information from small and middle-market business owners, finds that company leaders are generally optimistic—expecting sales and profits to remain stable. Business owners said they believe relatively high wages, low price inflation and consumer confidence "will buoy consumer spending to fuel sustainable growth," said PNC economist Kurt Rankin.
"Hiring is spread across many sectors, including manufacturing, service and retail," Rankin said in a report.
Nearly eight in 10 respondents told PNC they are optimistic about the local economy, up significantly from 64 percent in spring.
The survey found 59 percent are positive about the U.S. economy versus 57 percent last spring, while 83 percent are optimistic about their company's prospects versus 77 percent last spring.
When asked about the presidential election, Indiana small and medium-size business owners are pessimistic. Six in 10 are not satisfied with how Democrat Hillary Clinton and Republican Donald Trump are addressing the issues most important to them.
Rankin said that, nationally, the survey found business owners believe "the fundamentals are solid for the U.S. economy. PNC forecasts moderate economic growth for the rest of this year that will carry into 2017 and will support a federal funds rate increase in mid-December.•
Please enable JavaScript to view this content.