For years, Indianapolis resident Jim Treser found himself having to pay money just to get paid.

Standing outside a downtown bus stop one recent evening, the 56-year-old temp worker said he lost his bank account and more during the recession. His unsteady wages since then have come via physical checks or reloadable debit cards, so accessing cash—which he uses to pay bills and get around—can mean check-cashing fees and ATM surcharges.

"When I get back on my feet, I will," Treser said about opening a bank account, which he doubts he would qualify for today, given that he makes only $50 to $60 on the days he's called in. "Right now, I'm just day to day. That's my life."

Banks doing business in central Indiana are increasingly rolling out services aimed at people like Treser, who is among the 765,000 Hoosier households considered either "unbanked" or "underbanked." Being unbanked entails no bank relationship, according to the Federal Deposit Insurance Corp., while underbanked people have bank accounts but also use alternative financial services such as check-cashing shops.

Low-income households are most at risk of falling into either category, federal data show, and the risk is particularly acute for blacks, Hispanics and disabled working-age individuals. They wind up paying hundreds of dollars annually to access money that higher-earning segments of the population access for next to nothing.

In many cases, the FDIC said, people become unbanked or underbanked as the result of a life event such as a job loss, rendering them unable to meet minimum deposit, direct deposit or other account requirements. Low credit scores and a history of repeated overdrafts can be factors as well.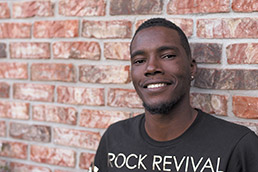 Christopher Hill (IBJ photo/Eric Learned)
Central Indiana banks have sought to lure them back, mainly with prepaid debit cards and specially designed deposit accounts, including so-called "second-chance" checking accounts.

Chase Bank has its Liquid card, Regions Bank its NOW card, and PNC Bank its SmartAccess card—all prepaid debit cards that don't allow overdrafts. On the deposit side, Fifth Third has its Express Banking account, PNC has its Foundations Checking account, and Old National Bank has its EZ Access account.

"It doesn't matter if we're in Muncie or Anderson or Indianapolis or Lafayette, there's a certain part of the community that has issues with their credit," said Mike Stewart, chief banking officer at Muncie-based First Merchants Bank, which launched its Simple Access card in August. "So we do feel it's a responsibility to offer such products and help those that want to help themselves."

These offerings aren't free, but banks have touted them as an affordable alternative to being unbanked. Officials with several banks said these products aren't huge revenue generators, but they're a way to cultivate long-term banking relationships.

"I was really excited—it's my first checking account in almost a decade," Christopher Hill, 28, of Indianapolis, said about the PNC checking account he opened this month. For about a year prior, he had PNC's SmartAccess card, which cost $5 a month—a deal compared with the hodgepodge of non-bank prepaid cards that charged him to load and withdraw money.

Many of the bank products have debuted within the past four years, including Fifth Third's 2015 rollout of Express Banking. And more players might be coming. In a statement, a Chicago-based BMO Harris Bank spokesperson said: "We are in the process of evaluating our current products for this segment specifically, but it's too early to share any specifics."

One in four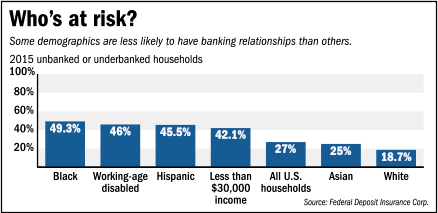 According to FDIC's 2013 National Survey of Unbanked and Underbanked Households (the last year for which Indiana statistics are available), about 7.7 percent of 124 million U.S. households were unbanked. Another 20.0 percent were underbanked.

Indiana fared slightly better than the country on both counts, with about 7.2 percent of its roughly 2.6 million households considered unbanked and 17.6 percent underbanked. Still, one in four Hoosier households fell into one of those categories.

The Indianapolis area saw an 11.0 percent unbanked rate and an 18.0 percent underbanked rate in 2013.

Being unbanked or underbanked "often leads to costs that many people think are unnecessary," NerdWallet data analyst Sreekar Jasthi said.

Fees "can be as low as 1 percent to cash a check, but we've seen 10 percent; 5 percent is really common, and that's really a lot when you're talking about a low-income family," he said.

NerdWallet recently analyzed data from the FDIC and other sources and estimated that unbanked households spend $196.50 annually on financial services, including card fees and paying bills, if they have prepaid debit cards with direct deposit. That figure jumps to $488.89 annually without direct deposit.

By contrast, banked households pay $33.88 to $173.75 annually to conduct financial business, NerdWallet found.

No overdrafts

Much of banks' chase for unbanked and underbanked customers involves offering prepaid cards—a multibillion-dollar market that Massachusetts-based Mercator Advisory Group estimates will grow 4 percent annually, to $341 billion in 2018.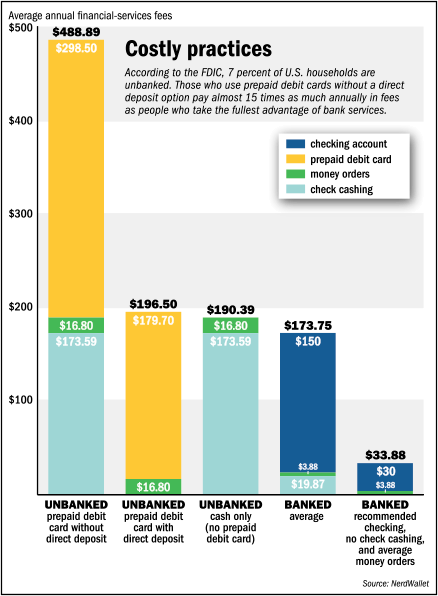 The banks' main pitch is that these cards cannot lead to overdrafts (users can't write checks from them) and people have a greater chance of qualifying for them than for a checking account.

Also, the cards grant customers large ATM networks, online and mobile banking, and protection from unauthorized purchases.

The prepaid debit cards from First Merchants, Chase, PNC and Regions cost $4 to $5 a month, although Regions waives the fee if users meet direct deposit thresholds.

"We're trying to service every type of client that walks in the door," said David Howell, a market director of banking at Chase. "So more than it being a revenue driver for us, it's absolutely about being able to provide service to the client."

But some banks have targeted this segment with deposit accounts instead of prepaid cards, a distinction that allows users to make wire transfers, among other features.

These accounts include Old National Bank's EZ Access, Fifth Third Bank's Express Banking and Key Bank's Hassle-Free. They also don't include checks, eliminating the risk of overdrafts.

Unlike the prepaid cards, these and similar products are mostly free. (Old National's monthly fee is $4.95 without direct deposit and free with it.)

Some banks have marketed offerings that encroach on territory long held by alternative financial-services shops. Key Bank, for instance, has its Key Bank Plus Check Cashing program, which allows consumers to cash checks for a 1.5 percent fee, get every fifth check cashed free, and earn free money orders.

Fifth Third's Express Banking program allows account holders to get discounts when they cash checks or buy money orders at Fifth Third locations. Fifth Third has 136,000 Express Banking accounts, including 11,000 in Indiana.

"There is a real need," said Fifth Third's Tim Tierney. "Not only do we hear it from community groups, from regulators, [but also] from within—our own financial center managers who are serving their communities."

Fresh attention

Part of the rationale for these products, bank officials said, is to reintroduce consumers with tattered banking experiences back into mainstream banking.

Another goal is to welcome people who might have been raised with little exposure to banks.

Indianapolis resident Deante Pounds is one example. The 21-year-old Arlington High School graduate never had a bank account. He decided to get one earlier this year with Fifth Third Bank.

He said he had mostly dealt in cash and used a check-cashing location for odd jobs, but these days he appreciates having an account.

"I like the fact that I don't have to worry about overdrafting," said Pounds, who signed up for Fifth Third's Express Banking account.

One reason banks have turned newfound attention to the unbanked and underbanked is regulatory pressure.

The FDIC started tracking such statistics in 2009, partly to better inform policymakers and other stakeholders about economic-inclusion issues.

At the time, it noted that many households, especially low- to moderate-income ones, didn't have access to mainstream financial products, "including bank accounts and low-cost loans."

It has published the survey every other year since then, with the 2015 survey set for an Oct. 20 release.

The Consumer Financial Protection Bureau has also weighed in, encouraging the country's top 25 banks this year to make widely available deposit accounts that help consumers avoid overdraft fees.

Banks said they have pursued the efforts to both achieve community development goals and cultivate customers. Toward that end, banks also have been leading financial-literacy classes that target teenagers, ex-prisoners, immigrants and others.

"It goes from the basics of counting U.S. currency to understanding the difference between a credit card and a debit card," Terri Morris Downs, executive director of the downtown Immigrant Welcome Center, said about a class Key Bank leads there.

"I mean things that you and I take for granted that are very daunting for someone who is coming from a completely different culture, who has lived in a country where their money is safer at home than it is in a bank."

The outlook

Some signs indicate that the ranks of unbanked and underbanked are declining.

FDIC Chairman Martin Gruenberg gave a sneak peek of the soon-to-be-released biannual results in a September speech at the Annual Bank Research Conference in Virginia.

He said the proportion of unbanked individuals fell to 7 percent in 2015—the lowest among the four surveys taken—from 7.7 percent in 2013 and 8.2 percent in 2011. Underbanked levels hardly changed from 2013 (20.0 percent) to 2015 (19.9 percent).

"So it is clear that, even though the unbanked rate has declined," Gruenberg said, "many U.S. households remain underserved by mainstream financial institutions."

NerdWallet's Sreekar Jasthi said it's hard to pinpoint factors driving down the unbanked rate, but they likely include an improving economy and the targeted bank offerings.

Some people might forever be content without a bank account.

Walking to a downtown CVS one evening, Gillie Watson, 54, said he prefers to use check-cashing services despite the costs.

"Yeah, I've had one, but I don't care for them," he said of bank accounts. "It's too much control over my money. I don't like that."

Others, like 31-year-old Phil Gin, have moved beyond being bankless. A few years ago, while working at a restaurant, Gin didn't feel his income warranted a bank account, so he just used check-cashing services.

These days, his money comes fee-free straight to his checking account.

"Now, I'm working two jobs," he said, "both with direct deposit."•