Imagine renovating an old house while continuing to live in it.
That's essentially what Rolls-Royce is trying to do. The manufacturer's Project Condor is a $400 million effort to update its Tibbs Avenue and Raymond Street plants while continuing uninterrupted production of high-precision products—engines for military aircraft.
This is year one of a five-year effort to modernize the campus, whose two plants are spread across 397 acres. Parts of the campus date to World War II, and some of its equipment dates to the 1960s. The British company last year committed to moving forward with the massive project after the state and city agreed to provide nearly $40 million in incentives and the United Auto Workers ratified a new five-year labor agreement.
Rolls-Royce officials say this investment sets the Indianapolis operations up to remain competitive for years to come. Without it, they say, future closure was inevitable.
"The work would have eventually gone away when the markets for the current engine portfolio and the spare parts weren't needed," Rolls-Royce spokesman Joel Reuter said. "It would have been a decline with an eventual ending of manufacturing for Rolls-Royce in Indianapolis."
The Tibbs Avenue and Raymond Street plants, also known as the Rolls-Royce Indianapolis Operations Center, employ about 1,650 hourly and salaried employees. Another 2,000 people work at the company's Meridian Center office complex on the southern edge of downtown, and 500 more are scattered across eight other central Indiana facilities.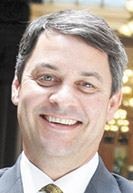 Smith
Rolls-Royce calls the modernization Project Condor—a reference to the California condor, which is making its way back after being on the brink of extinction in the 1980s.
Indiana Secretary of Commerce Victor Smith said the Indiana Economic Development Corp. had a "substantial" concern that Rolls-Royce might choose not to invest in its Indiana facilities.
"They weren't bluffing. We knew that the options that they had were real," Smith said.
Smith declined to go into detail on the conversations, saying the IEDC keeps its negotiations with companies confidential. But it's no secret that the Indianapolis campus vies for work against a state-of-the-art factory in Virginia that opened in 2011.
Indianapolis Metropolitan Development Commission staffers acknowledged as much when they recommended approval of 10-year real and personal property tax abatements that are expected to save the company $21.7 million.
"Without this investment, the local Rolls-Royce facility will be at a competitive disadvantage in securing new contracts and additional investment in research and manufacturing processes," the staff report said.
State officials also stepped up by securing passage of legislation in the 2015 General Assembly that made the company eligible for a state tax credit, even though the expansion is not creating jobs. An existing credit in the state's economic-development toolbox required job creation.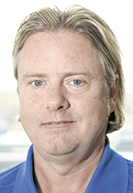 Mair
Rolls-Royce ended up receiving a tax credit of up to $15.5 million and a training grant of up to $1.4 million.
Out with the old
Leading the eight-person Project Condor team is David Mair, a 30-year-company employee.
"Indianapolis has a ton of capability and talent …. But it had some competitive gaps that this investment addresses," he said.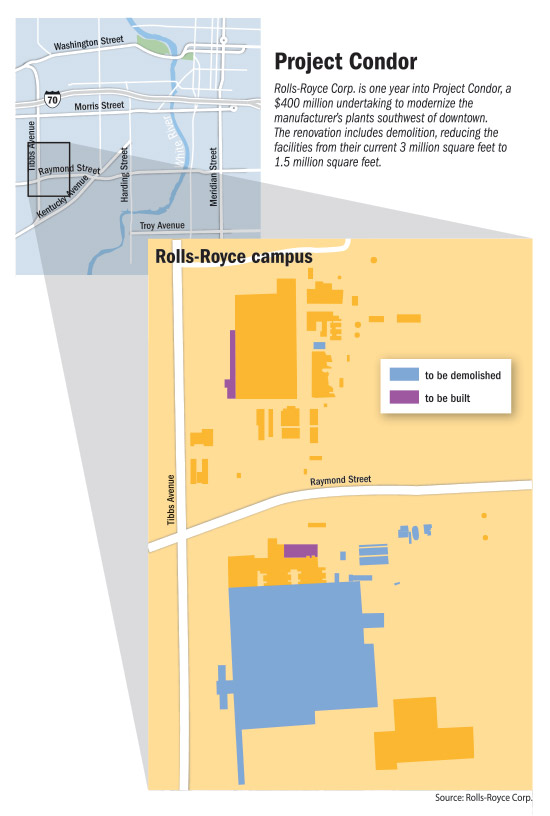 The Indianapolis facilities were built between 1942 and the 1960s, Mair said. The oldest part of the site, known as Plant 5, is made of wood and concrete and began as a World War II production facility.
The entire, 2-million-square-foot structure went up in less than four months because of the urgent need for war support. Among the products it made for the war: the V1710 engine, which powered P-40 U.S. Air Force fighter planes.
Though rich in history, the building today doesn't cut it, Mair said.
"You can't be competitive in a 70-year-old wooden shed," he said.
About half of the 3-million-square-foot campus, including much of the Raymond Street facility, will be torn down. Other parts will get major renovations, including new utilities and machinery.
The plants' layout will change in the name of improved efficiency, and many workers and machines will move to new locations.
The result will be "as close to a new factory built on the same campus as you can get," Mair said.
In addition to addressing engineering and logistical challenges, Project Condor's leaders also must prepare employees for the wrenching adjustments to their work routines. The effort includes employee training, as well as staff workshops on such topics as teamwork, lean production techniques and dealing with change.
Keeping production going
The modernization work should be complete by the summer of 2020, after which Rolls-Royce will start demolition of the older parts of its campus.
All of this has to happen without affecting production.
"I can't create disruptions in today's product when I'm working on tomorrow's factory," Mair said.
Warren White, another member of the Project Condor team, compared the process to a sliding puzzle in which you move one piece at a time to create the larger picture.
"It's a major undertaking," White said.
White was one of three Project Condor team members who traveled to the United Kingdom in May to learn from Rolls-Royce employees who have been involved in plant upgrades or new construction projects. As part of the experience, the Indianapolis group toured a new Rolls-Royce facility in Sunderland, England.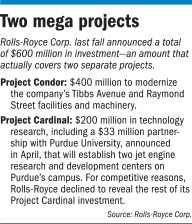 There's also considerable outside interest in what Rolls-Royce is pulling off in Indianapolis. White said the company already has hosted visitors from the Federal Aviation Administration, members of the military and other customers.
Coming to fruition
One of the first pieces of Project Condor, a new loading dock at the Tibbs Avenue plant, is set to go into use this month.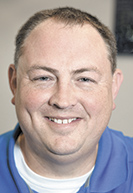 White
The dock, in a former storage area on the north end of the plant, replaces one that was midway down the east wall of the facility.
Rolls-Royce said the dock's new location will create a better flow for materials and easier access for trucks. The area's freshly refinished floor, new lighting and dock doors contrast with the not-yet-renovated plant space to the south, which is marked by old utility pipes and holes in the concrete walls.
Pepper Construction, which is based in Chicago and has an office in Indianapolis, is the general contractor. By the time the work is complete, the renovations will have involved more than 1,000 people from more than 30 companies.
They're doing all kinds of tasks: electrical, plumbing, flooring, heating and cooling, painting, concrete and steel work, roofing and more. Pepper said it has a nondisclosure agreement that prevents it from discussing details of Project Condor.
In just the first year, workers have removed and recycled more than 450 tons of metal. They've also removed 52 tons of asbestos.
A 15,000-square-foot space in the Raymond Street facility is being transformed into a development center—a place where engineers can figure out how to transition from the old machinery and processes to the new computer-numeric-control equipment.
Another big part of Project Condor begins in January, when Rolls-Royce begins moving 4,000 machines and more than 70 departments to new locations.
That in itself is a complex procedure. Because of the nature of its products, Rolls-Royce must keep tight controls on its manufacturing process. A faulty aircraft engine could lead to disastrous consequences.
"We've got to be right. We've got to be perfect," White said.
For that reason, when equipment is relocated it must go through testing and verification before production can resume, which can mean a 90-day delay for a line to go back into production at its new location.
"In a way, the construction is the easy part," Mair said.
One reason the company was willing to launch such a complex, expensive overhaul rather than build or expand elsewhere is it did not want to lose access to its highly trained and experienced Indianapolis workforce, outside business experts say.
"Starting that from scratch is not easy. It's costly and it can slow things down," said Mohan Tatikonda, professor of operations management at the IU Kelley School of Business in Indianapolis.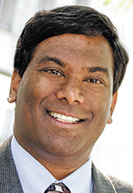 Tatikonda
Karl Knapp, associate professor of business administration at the University of Indianapolis, said the existing workforce, in addition to having the required skills, also understands the company's culture and procedures.
"That's all knowledge that it's hard to make up," Knapp said.
"My guess is, the main thing they're trying to preserve by not moving is the workforce," he said.
Union buy-in
None of this would have been possible without the cooperation of United Auto Workers Local 933, which represents 1,050 employees at the plant.
In the spring of 2015, union members ratified a new five-year contract with Rolls-Royce.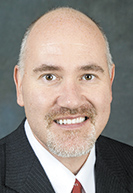 Knapp
Having that contract in place was critical before Rolls-Royce could commit to Project Condor, Mair said.
Part of the reason for a new contract: Project Condor includes about 300 job reductions.
In an incentives contract that Rolls-Royce signed last year with the Indiana Economic Development Corp., the manufacturer agreed to retain at least 90 percent of its employment base.
Many of the job cuts, Mair said, will come from the company's maintenance department. Once building and equipment upgrades are complete, the company won't need nearly as many maintenance workers.
"That was a central point of the labor negotiation," Mair said.
Representatives of UAW Local 933 did not respond to repeated messages requesting comment.
The new labor agreement, Mair said, includes a beefed-up retirement package to encourage eligible employees to retire. It also includes provisions for workers who want to retrain for a different position.
Rolls-Royce's Indianapolis workforce includes more than 300 employees who already are or will be at 63 in the next five years, Mair said.
Between retirements and job redeployments, Mair said, the company hopes to handle the reduction without layoffs.•
Please enable JavaScript to view this content.