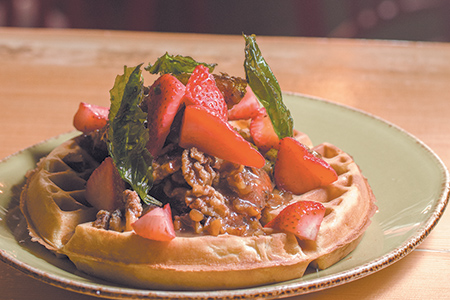 When word began circulating that Circle Centre would be housing a restaurant that offered bowling, video games and Skee-Ball, visions of Jillian's, Dave & Buster's and other interactive fun factories might have entered your head.
Well, get rid of those thoughts, because Punch Bowl Social (120 S. Meridian St., 249-8613) isn't one of those sensory-overloading pleasure palaces. In fact, if your access point is the main entrance on Meridian Street, you might not even notice that these and other games are available.
What you'll see, instead, is a lively, attractive dining room that's classy, comfortable and wisely sectioned off from the activity-focused areas. You'll also find a menu that, while not extensive, dresses up the familiar with, for the most part, appealing, Southern-accented touches.
The Fra' Mani Fried 'Bologna' ($13) for instance, isn't the kind of desperation sandwich its name implies. It's really a smart layering of mortadella with gruyere cheese, Castelvetrano olive tapenade, and tomato on Pullman toast, a fine-grained white bread that handles its task with style. Chips come on the side, and you can add a small dish of Onion Creme Fraiche ($1). Wiser, though, to put that dollar toward Hugh's Pimiento Cheese ($7). Punch Bowl's take on the caviar of the South adds a heavy dose of bacon marmalade that will have you flagging down your waiter for more toast points to smear it on. Also appetizing is a plate of Li'l Street Tacos ($10), a quartet of soft-shelled, cocoa-dusted pork carnitas tacos that could serve as an entree if you don't want to share.
The Chicken and Waffles ($16) held no surprises beyond the smoked jalapeno pecan maple syrup. The double-pattied Knockoff Burger ($12) is fine if you really must. Instead, though, downtown lunch regulars should consider going a bit deeper into the menu. Or consider trying either the Green Plate Special, a daily vegetarian option that, on our visit, featured a winning Green Bean Salad ($11) that proved far more interesting than its moniker. A refreshing and filling bowl of Haricot verts—thin green beans—tossed with cherry tomatoes, fingerling potatoes, hard-boiled egg, pickled onions, parsley and chives was brought together with a green olive tapenade. The mixture of textures added to the pleasure.
A nicely dense Cherry Crumb Cake ($6) seemed the mildest offering from a dessert lineup that includes S'More Entremet—a camper variant involving chocolate mousse—and Chocolate Turtle Cheesecake. Another option is a float or shake, the most indulgent of which is an Almond Joy Milkshake ($6) with chocolate sauce and coconut cream.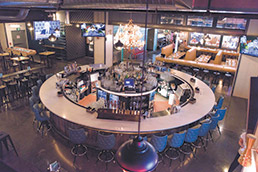 Punch Bowl Social takes the "social" seriously with cozy bars and plenty of games. (IBJ photo/Eric Learned)
As the name suggests, punches are an anchor in the drink lineup, so expect the subject to be brought up by your waiter. The drinks are available as single servings ($8), four-serving ($32) or eight-serving ($64). You'd think there'd be at least some discount for volume. Variations include the "You Must Bring Us … A Shrubbery" with vodka, house-made watermelon shrub and cardamom syrup, and The King's Cup with coconut rum, McClary Bros. Pineapple & Fennel Seed vinegar and White Pear Fuji Apple Tea. You get the idea.
Pace yourself on all of the above, though, if you intend to stick around for a while playing games. In addition to standards such as darts and pool, there are bowling lanes in pairs for smaller social gatherings ($4 or $7 per hour per person, plus $3.50 shoe rental), bocce courts ($10 an hour), karaoke rooms so innocent that bystanders don't have to suffer through your officemate's rendition of "I Will Survive" ($25-$35 an hour, depending on number of people), a few arcade games, Skee-Ball lanes (without prizes), and what is likely to be the biggest Foosball table you've seen.
Your pleasure for these frolics will largely depend on the people you are socializing with. And if someone else is buying the next bowl of punch.•
Please enable JavaScript to view this content.