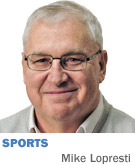 Did you hear the one about the time the high school football team in Indiana flew to play another high school football team in Indiana?
It's 1973, and football is the little brother in Indiana. There are no Indianapolis Colts. No Lucas Oil Stadium, nor RCA Dome. The high school season is over by early November, to get out of the way for basketball. But there is something new, because six of the state's leading prep coaches had met at one of their houses—Indianapolis Washington's Bob Springer's—and concocted an idea. They called it a playoff, and after twisting IHSAA Commissioner Phil Eskew's arm long enough, they had it approved for 1973.
It's a dainty little thing. Three classes, four teams per class. So out of 316 football-playing high schools, only 12 are invited—less than 4 percent. They qualify through a mathematical formula that gives points for season wins.
No neutral sites, either. You can win state at home, which is what South Bend Washington does over Indianapolis Cathedral in AAA, and Greenfield-Central does against Blackford in AA. Mishawaka Marian wins at Clarksville Providence in A, never mind the 500-mile round trip. That's where the plane comes in.
This all springs to mind because the 44th IHSAA playoffs start next weekend, with every team in Indiana getting its shot, from Adams Central to Zionsville. Six classes, all on the road to Thanksgiving weekend in Lucas Oil Stadium. It has become a very big deal.
But it had to start somewhere. Time to get Mike Hecklinski on the phone. Of the first three championship coaches in 1973, he is the only one who survives, now retired and living in Florida.
In 1973, he was 25 and in his first year coaching Mishawaka Marian, replacing a legend named Bob Otolski, who had moved on to the staff at Indiana University. He understood he had a challenge, "when you've got a group of seniors who just lost their coach, who not only coached football but had helped open up the school."
How to reach them? Hecklinski sold one idea: the playoffs. "If we had not had a state championship you could win on the field that year," he said, "I'm not sure how successful we would have been."
Marian rolled over Woodlan 42-0 in the semifinals, and was facing a five-hour bus ride to play at Clarksville. But the Marian athletic director popped in one day with a question for Hecklinski. How about flying to the game? Seems Marian had a wealthy booster who was also a pilot, and willing to sponsor a charter flight.
"We flew into Louisville Saturday morning, took a bus to Clarksville, played the game [winning 21-14], bused back to Louisville and flew home Saturday night," Hecklinski said. "And had the pep assembly at the school when we got back that night. Amazing. We were the only high school team in the history of Indiana—I think this is still true—that ever flew to a game."
Hecklinski and growing Marian won two AA titles in the next three years, forming the playoff system's first dynasty, and giving a young coach renown. "And that," he said, "was simply because of the playoff system."
They were also a harbinger of a not-universally-admired playoff legacy: the absolute dominance of private and parochial schools in the lower-enrollment classes. "I saw that coming," Hecklinski said. "I saw that happening at Mishawaka Marian."
The basketball tournament had been going 63 years before football saw its first playoff game. But the playoffs really blossomed in the 21st century, partly because of a guy named Peyton Manning, whose name ended up on jerseys worn everywhere in the state and on a children's hospital. Awash with Manning mania, Indianapolis became a football hot spot.
"Where has the center of football really grown in Indiana?" Hecklinski said. "The ring of schools around Indianapolis."
Right. In 43 years, the largest-school class—starting with 3A and now 6A—has had only 16 different schools win state championships. Indianapolis-area teams have won the past 15 in a row, the trophy passed around from Carmel to Warren Central to Ben Davis to Center Grove, etc. You have to go back to 2000 and Mishawaka's Penn to find anything different.
Nothing says large-class football like 2010, when Fishers and Lawrence Central—12 miles apart—played for the 5A state championship.
Hecklinski still monitors Indiana from Florida, closely enough to know that Mishawaka, Marian and Penn went into the last week of the regular season with a combined record of 22-2.
And he remembers something else about 1973, and the birth of the playoffs.
"The basketball coaches pooh-poohed that thing because they said, 'You're never going to be what we are, obviously.' That's why it got through, because the basketball coaches didn't object. Thank God the basketball coaches didn't see this coming."•
__________
Lopresti is a lifelong resident of Richmond. He was a columnist for USA Today and Gannett newspapers for 31 years; he covered 34 Final Fours, 30 Super Bowls, 32 World Series and 16 Olympics. His column appears weekly. He can be reached at mlopresti@ibj.com.
Please enable JavaScript to view this content.