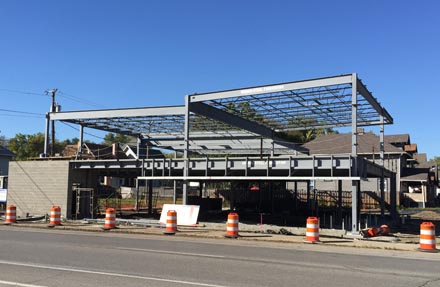 Outreach Inc. has started work on a two-story headquarters building on the near-east side and should be ready to expand its services to homeless youth by next spring.
But the not-for-profit still needs to raise about $300,000 to finish the $3.3 million project, said Eric Howard, who founded the faith-based Outreach in 1996. He's hoping the business community will step up and come to the rescue.
"We would love to finalize the capital campaign," he said. "We're pretty positive. We've really only gone public on the campaign since the summer."
Outreach received a big boost in its efforts to construct the 12,000-square-foot building at the northeast corner of East New York Street and Keystone Avenue from a couple of large local foundations.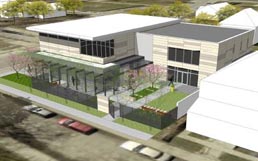 The bigger building will allow Outreach to offer larger areas for counseling, showering, laundry and food services. (Image courtesy Outreach Inc.)
Lilly Endowment Inc. contributed nearly $1.3 million, and the Nina Mason Pulliam Trust pitched in another $200,000. Donations otherwise have come from individual donors, companies and churches, Howard said.
The building's skeleton is easily visible to motorists traveling east on one-way New York Street. Construction began Aug. 1. The steel beams have been erected, the elevator and stairwell shafts are in, and the second floor concrete has been poured.
Outreach began pursuing its project after outgrowing its current space—a two-story residence that it owns at 2822 E. New York St.—about five blocks east of the new building. The group typically serves 350 to 400 homeless teens and young men annually, ranging in ages from 14 to 24.
The new building will enable the organization to expand its counseling center while providing a larger computer lab and bigger meeting rooms. In addition, Outreach will increase its food services by adding a small commercial kitchen, and provide larger shower and laundry facilities.
Also, the new building will allow all Outreach staff to be on site. The not-for-profit has 18 employees, many of them case managers or service providers. They meet with Howard and other staff at Englewood Christian Church because there's not enough space at the current location to house them.
"We are spread out," Howard said. "When we have an all-staff meeting, we can't even meet together."
Outreach does not provide housing for the homeless but hopes to someday. Many who seek its services are referred by other homeless young people and by social workers.
Howard started the organization by offering sandwiches, bottles of water and basic first aid to homeless teens. It has grown to a $1.2 million organization that has contracts with Indianapolis Public Schools and the Metropolitan School District of Pike Township to offer services to help prevent homeless teens from dropping out of school.
"Twenty years later, here we are impacting young homeless people by building this facility," Howard said.
DKGR is the architect on the project. Milhaus Development LLC is the development manager and Wurster Construction the general contractor.
 
Please enable JavaScript to view this content.