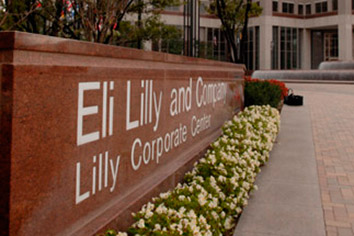 Eli Lilly and Co. is pledging $90 million over five years to improve access to treatment for diabetes, cancer and tuberculosis in developing countries—the latest push in its philanthropic strategy of building health care systems around the world and increasing the market for its prescription drugs.
The Indianapolis-based drug maker said Tuesday the goal is improve health care for 30 million people annually by 2030 in Brazil, China, India, Kenya, Mexico and other in "resource-limited settings." That represents about a six-fold increase in the number of people the company reaches annually, outside of its traditional businesses. The company's shorthand for the effort is "Lilly 30×30."
"Over the past two decades, we have made tremendous progress in expanding access to quality care in poor communities, but we can and must do more," John Lechleiter, Lilly's chairman and CEO, said in a written statement.
One half of the $90 million will come from the Lilly Foundation and the other half will come from company funds. Lilly and its foundation are separate from the Indianapolis-based Lilly Endowment, which is one of the largest philanthropic organizations in Indiana.
The company will make the investment through its Lilly Global Health Partnership, a group of more than 45 international and national healthcare organizations, such as United Way Worldwide, the International Council of Nurses and the Infectious Disease Research Institute.
As part of the effort, Lilly said it will explore new approaches within its company to help developing nations, including boosting drug discovery for diseases disproportionately affecting poor people and increasing patient education programs.
The 30×30 effort is the latest example of Lilly's philanthropic strategy, which is to improve health worldwide while paving the way for new customers for its drugs. In recent years, the company has spent tens of millions of dollars and sent teams of employees as volunteers to improve health care systems in emerging markets such as India and South Africa.
The company has acknowledged that helping countries take better care of people with chronic diseases such as diabetes will  not only improve their health, but could also boost the number of patients taking Lilly's diabetes medicines.
In 2003, the company launched what has become a $170 million commitment—the largest philanthropic project in its history—in which it gave the manufacturing know-how it had developed making antibiotics to more than 20 organizations globally so they could produce drugs for multi-drug-resistant tuberculosis.
The company has also sent doctors, pharmacists, diabetes educators and communications specialists to help clinics and patients overseas, often in countries that lack electricity, clean water and sanitation.
Please enable JavaScript to view this content.