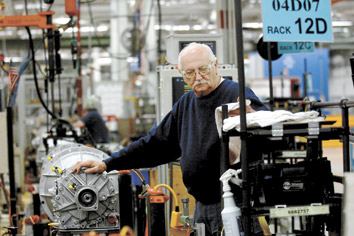 Indiana's manufacturers see their prospects for growth lagging for the second year in a row, according to a study released Wednesday by accounting firm Katz, Sapper & Miller.
Their roadblocks to prosperity include health care regulation, diminishing returns on new technology and improvement processes, and a stalled national economic recovery.
More than 80 percent of survey respondents said their company's recent financial performance is stable or better, the survey showed. But the respondents also said their expected growth rates for revenue, profit and capital investment are lower than in recent years.
"While Indiana manufacturers remain confident about the future, for the second year in a row, respondents indicate that expected financial growth rates have stalled," survey co-author Steve Jones said in a news release. Jones is a professor of finance and chair of the Indiana University Kelley School of Business in Indianapolis.
The 2016 Indiana Manufacturing Survey was commissioned by Indianapolis-based Katz, Sapper & Miller and authored by Kelley faculty. Survey respondents included manufacturers representing a range of sectors around the state—including automotive, aerospace, packaging and health care—in both rural and urban communities.
The survey suggests several reasons for concern:
— The national economic recovery is in a mature phase, so growth has slowed overall.
— Post-recession investments in new technologies, facilities and process improvements have matured and their resulting productivity gains have tapered off.
— A continuing shortage of skilled workers. And for the first time this year, respondents said they are facing a shortage of unskilled production workers.
— Regulatory and reporting requirements, especially healthcare regulation and corporate tax rates.
Survey authors scored the state's manufacturing industry on 16 different measures, including the business climate, the cash conversion cycle, and manufacturers' financial and operational performance.
The method uses 2011 as a baseline and gives that year a baseline score of 0.500. A score of higher than 0.500 indicates the state's manufacturing sector is getting stronger, and a score below 0.500 indicates the sector is weakening.
The industry's 2016 score was 0.490, down from 0.497 in 2015. In contrast, the industry scored above 0.500 each year from 2012 to 2014, reaching a high point of 0.536 in 2014.
"In short, the day may be sunny, but there are clouds on the horizon," said survey co-author Mark Frohlich, an associate professor of operations management at Kelley. "Given our regulatory burdens and lack of skilled workforce, how do manufacturers continue to grow? That is the biggest concern identified in this year's study."
Please enable JavaScript to view this content.