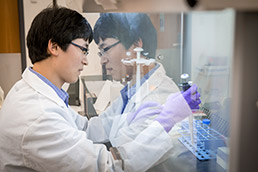 Junjie Li, a research fellow in Purdue's Weldon School of Biomedical Engineering, is part of a startup trying to develop a new strategy for treating prostate cancer. (Photo courtesy of Purdue Research Foundation)
Research developed at Purdue University and licensed by a biomedical startup could give patients with late-stage prostate cancer an alternative to hormone therapies that can develop resistance after prolonged use.
Purdue biomedical engineering professor Ji-Xin Chen, Purdue post-graduate research fellow Junjie Li, and veterinary medicine professor Timothy L. Ratliff, who is also director of the Purdue University Center for Cancer Research, founded Resarci Therapeutics LLC to further develop the technology.
Cheng said resistance to current hormone therapies is one of the key challenges prostate cancer patients face in treatment.
"Hormone therapies have a goal to reduce male hormones, called androgens, in the body, or to stop them from affecting prostate cancer cells," Cheng said in a written statement.
"Almost 100 percent of cancer patients will eventually develop a resistance to hormone therapies," he said. "Every year in the United States, around 32,000 new cancer cases become resistant, lessening the likelihood of survival."
Resarci Therapeutics has developed a new therapeutic strategy by targeting the cholesterol metabolism instead of the androgen pathway. That eliminates the hormone resistance, Li said.
Ratliff said the company has demonstrated the ability to overcome resistance to hormone therapy in mouse models and is now seeking to make improvements based on future trials. The company is seeking funding from the National Institutes of Health and investors.
Technology used by Resarci Therapeutics has been licensed through the Purdue Research Foundation Office of Technology Commercialization.
Resarci Therapeutics is a member of the Purdue Startup Class of 2016. Purdue has 27 startups based on Purdue intellectual property that were launched in the 2016 fiscal year.•
Please enable JavaScript to view this content.