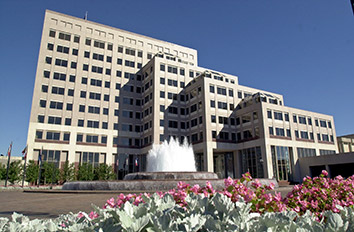 Eli Lilly and Co. on Wednesday received accelerated approval from the U.S. Food and Drug Administration for olaratumab, a new drug for treating adults with advanced soft tissue sarcomas.
Analysts believe the drug, to be sold under the brand name Lartruvo, could eventually bring Indianapolis-based Lilly as much as $600 million in annual sales.
The FDA approved the Lartruvo for use in combination with chemotherapy drug doxorubicin to treat patients whose soft tissue sarcomas can't be treated using radiation or surgery.
Soft tissue sarcomas, or STS, are malignant tumors that are found in fat, muscle, blood vessels, deep skin tissues, tendons and ligaments.
The drug is the first front-line therapy approved by the FDA to treat STS since doxorubicin more than 40 years ago.
The FDA gave the drug the OK under its Accelerated Approval program. The program allows for earlier approval of drugs that treat serious conditions and fill an unmet medical need.
STS is hard to diagnose and difficult to treat. In 2015 in the United States alone, an estimated 12,000 people were diagnosed with STS and 5,000 died from the disease.
The approval was based on a Phase 2 study of 133 patients that showed an improvement in the median overall survival rate of 11.8 months when Lartruvo was used with doxorubicin in comparison with doxorubicin alone.
A Phase 3 study for the drug is already scheduled.
Olaratumab was given preliminary approval for use in Europe last month.
Lilly announced the drug approval late in the day, leaving almost no time for the market to react. Shares closed at $78.56, down 21 cents on the day.
Please enable JavaScript to view this content.