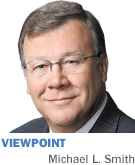 A few years ago, good friends and I tried to help two failing charter schools. Experienced in business and already involved in education initiatives, we thought we had what it took to save the schools.
We were wrong.
After three years, our schools closed, leaving 700 children to find new places to learn. We believed we had the ingredients to deliver on a promise of "good schools" for all. We hired Harvard-trained leaders with prior success in urban schools, we occupied well-equipped school buildings, and more.
However, we discovered that too many of our kids were so challenged by life outside school that we could simply not compensate for the anxieties and distractions they faced. Many of our students performed at a very high level; too many did not. Those kids were so wounded by the effects of poverty that we were unable to improve their performance fast enough. This experience still stings!
Sadly, our story isn't an anomaly. Today, more than one-third of Indianapolis children live in poverty, meaning our schools deal daily with the repercussions of kids coming to school hungry and living disorganized lives.
It was out of this experience that the Faith & Action Project was born.
Shortly after the schools closed, I was introduced to Matthew Meyer Boulton, president of Christian Theological Seminary. We had a conversation about poverty and ways CTS and the city's faith community could work together to help.
First, we looked at the facts. Research tells us that people in generational poverty can't pull themselves out of poverty alone.
Then we considered how the community addresses poverty now. We acknowledged the many organizations providing desperately needed services and leadership.
Finally, we began to imagine what could happen if those organizations had opportunities for accelerated and deeper impact.
That led to the creation of the Faith & Action Project, which aims to inspire collaboration among faith communities, not-for-profits and government agencies to reduce poverty. The project will work through annual events and awards to ignite a movement. Starting next fall, three innovative programs with the potential to be scaled up and replicated will earn financial awards.
On Sept. 29, approximately 2,000 people attended the kickoff event, "Poverty, equality and opportunity: What's a community to do?" Comments from thought leaders David Brooks and Tavis Smiley and powerful opening remarks from Mayor Hogsett launched our effort to reverse the poverty growth trends eroding our community.
As we're embarking on our fight against poverty, some challenging truths:
• It took a long time to get to here; we won't fix this overnight.
• The model we've used since the 1960s has failed. Those with power and money cannot fix this alone. We need a community-wide effort with boots on the ground.
• The stakes are high. We can't ignore our neighbors' physical, mental and spiritual problems any longer.
• We must recognize the difference between charity and social justice, and ensure justice is available to all.
For our family, it's personal. We're blessed to have nine grandchildren in Indianapolis. If we are to provide a promising future to these and other youth, we must stop at nothing to reverse the growth of poverty.•
__________
Michael L. Smith retired as executive vice president and chief financial officer of Anthem Blue Cross Blue Shield.
 
Please enable JavaScript to view this content.