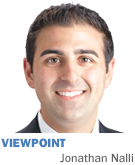 Suicide is the 10th-leading cause of death in the United States, and at least 80 percent of suicide victims suffered from a mental illness at the time of death. This is nothing short of tragic, and it's taking a particularly deep toll right here in Indiana. Hoosier teens contemplate suicide at a higher rate than those in any other state, and only one other state has a higher rate of teens committing suicide.
Changing course demands a serious focus on addressing mental and behavioral health for what it is: an illness.
As part of Ascension's national health system, St. Vincent has focused our efforts on transforming physician practices into true patient-centered medical homes equipped to address the complete challenges posed by mental illness. Integrating mental health care in this way allows patients to receive more comprehensive, coordinated and timely access to the services they need most.
According to the National Institute of Mental Health, approximately one in five U.S. adults—43.8 million people—experience mental illness in a given year. Nationwide, 10 million adults experience a serious mental illness that substantially interferes with or limits one or more major life activities. In Indiana alone, that amounts to 250,000 adults, or more than 5 percent of the total population.
Among children, the data is similarly concerning. Half of all mental health disorders show first signs before a person turns 14, and three-quarters of mental health disorders begin before age 24. As of 2013, 9.8 percent of Indiana adolescents ages 12-17 and 9.4 percent of those ages 18-25 reported having at least one major depressive episode. Nearly 30 percent report "feeling sad or hopeless almost every day for two or more weeks in a row."
But sadly, fewer than 20 percent of children and adolescents with diagnosable mental health problems receive the treatment they need, often because the signs go unrecognized.
Approximately 17.1 million children in the United States have or have had a psychiatric disorder. And among college students, one in four suffers from a diagnosable mental illness, though only 40 percent of those students actually pursue help.
In 2008, the federal government essentially legislated parity between mental health coverage and physical health coverage, an effort designed to ensure greater access to mental health treatment. However, the intended changes have been slow in coming.
Fortunately, there has recently been important progress in Congress to strengthen the mental health infrastructure and address the mental and behavioral health crisis. The Helping Families in Mental Health Crisis Act, co-sponsored by many in our own congressional delegation—including Reps. Susan Brooks, Larry Bucshon, Luke Messer, Jackie Walorski and Todd Young—encourages primary care providers to identify and address mental and behavioral health issues and furthers evidence-based treatment. The bill passed overwhelmingly in the House of Representatives by a vote of 422-2. We encourage the Senate to act this fall and for Congress to get this legislation to the president's desk.
Even as medical professionals hone their approach to mental health, each one of us also has a role to play in combating this crisis.
It's time for the mental health stigma to come to an end. It's time we become more aware of our friends and family members who might be suffering from mental and behavioral health issues. It's time we become comfortable talking about our own struggles with mental health. And it's time we commit to identifying depression (and other mental illness) early, long before complications may occur, particularly when those complications can too often be life-threatening, sometimes ending tragically.•
__________
Nalli is chief executive officer of St. Vincent, Indiana, and senior vice president of Ascension Health/Indiana Ministry Market executive.
Please enable JavaScript to view this content.