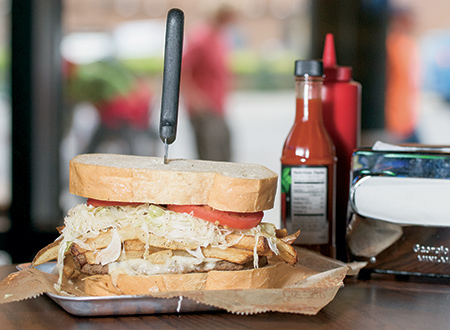 Trigger warning: I've been known to get pretty defensive about Philly cheese-steaks and New York pizza, culinary staples when I was growing up on the East Coast. So I understand being sensitive about critical comments directed at the cuisine associated with wherever you spent your formative years. If you are from Pittsburgh, you might not want to read the commentary that follows.
I consider myself open-minded when it comes to regional cuisine. But, having now experienced the sandwiches at Primanti Bros. (49 W. Maryland St., 384-1046), I must confess that their appeal eludes me. The staple of the menu of this Pittsburgh-birthed chain spreading its wings into Indiana—this is the second location with more to come—is a giant sandwich featuring grilled meat, melted provolone cheese, coleslaw, French fries and tomatoes on thick Italian bread. It's an awe-inspiring site when it shows up at your table.
But then you have to eat it.
While the meat in the Pastrami & Cheese ($8.29) was worthy, it took an expedition to get to it. The mountain of vinegar-based sweet-and-sour coleslaw wasn't sweet or sour enough; the thick bread slices were bland. And I couldn't find any compelling reason why fries belong on a sandwich. Pushed aside, these hand-cut spuds were a more-than-ample (if under-seasoned) side. And the excess bland bread only got in the way.
The Brothers Burger ($10.49)—a half-pound patty with bacon, pastrami, a fried egg, onion, banana peppers, tomato, lettuce and Provolone, should have been packed with flavor. I won't say it was bland, but it seemed afraid to assert itself. But even it was preferable to the Pitts-burger ($7.29), an allegedly seasoned hamburger steak hidden as if in a federal witness relocation program. Alas, it was not worth finding. Ever have the experience of being the sober one at a party and talking to someone who thinks they're hilarious? That's kind of how I felt trying to figure out what the fuss was about.
At the risk of piling on, the Colossal Hand-Cut Onion Rings ($7.19) were an impressive sight, but tough and flavorless, makingdips into the accompanying Parmesan horseradish mayo not just preferable, but mandatory. And, even then, leftovers remained. Better were the Crispy Boneless Wings ($6.99 for eight but 55 cents each on Mondays), which weren't terribly crispy, but satisfied the kid in us who still occasionally craves good chicken nuggets. Try them with the Sweet Heat sauce.
So is Primanti Bros. just another downtown spot for locals to skip and turn over to the conventioning crowd? I was starting to think so … until I took a bite of the Legend pizza ($14.99 for 14-inch, $17.99 for 18-inch).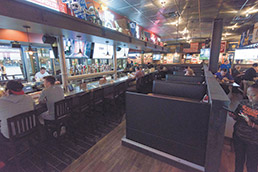 Primanti Bros. has transformed the former California Pizza Kitchen space into a welcoming bar and restaurant. (IBJ photo/Eric Learned)
I had foolishly assumed pizza would be an afterthought in this sandwich-centric place, but in my two visits, it proved to be Primanti's strongest suit. With a memorably sweet sauce, hand-stretched crust and a careful—and, a surprise here, not overloaded—distribution of onion, mushroom, green pepper and tasty discs of pepperoni and crumbles of sausage—it offered a slightly different flavor profile with every bite, earning a spot on my short list of favorite downtown pizzas. And with a two-days-a-week deal that offers a pizza, wings, salad and drink from $20—I expect to be searching for a few friends for an occasional Tuesday or Thursday visit to ersatz Pittsburgh.
Oh, and kudos to the restaurant designers who came up with the garage door that, when rolled up, connects the sidewalk seating to the rest of the place, adding a nice and needed touch to the Illinois Street streetscape.•
—Lou Harry
Please enable JavaScript to view this content.