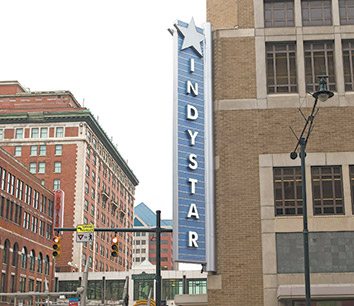 The Indianapolis Star laid off two members of its reporting staff Tuesday as part of a larger effort by its owner, Gannett Co., to trim 2 percent of its workforce.
The layoffs were the seventh round of job reductions at the paper in the past eight years—and more cuts are looming.
Negotiators for The Star told union officials Tuesday that the paper plans to eliminate its entire copy editing staff and move those duties to a central copy desk in Louisville.
The move would eliminate seven jobs in Indianapolis, although two of the staff members would be moved to other positions focused on web production and proofreading headlines and front pages, according to a post on the website of the Indianapolis NewsGuild, which represents The Star's newsroom and custodial employees.
The two employees who lost their jobs Tuesday, Phil Friend and Leah Woodrum, were web producers—reporters who generate online stories and social media content. Friend worked in sports and Woodrum handled general-assignment duties. Both joined The Star about seven months ago after being transferred from the Lafayette Journal & Courier, also owned by Gannett.
Guild President Robert King, a reporter at the paper, said the pair were generating content for The Star and other Gannett papers in Indiana.
"They were new to us but we were glad to have them," King said. "They were good folks. I don't think this is any reflection on their work. It's a decision far above us here."
Jeff Taylor, a Gannett vice president and its Midwest regional editor, declined in an email to IBJ to comment on the changes.
The announcement about the copy editors—who generally check stories for grammatical and factual errors and write headlines—was part of the paper's opening salvo in new contract negotiations, which started Tuesday.
King declined to comment specifically on the negotiations. But a post on the union's website said "guild leaders reacted with concern about the proposal, not only for the job losses but also for the potential damage to the quality of the news product."
In 2012, The Star moved most of its designers to Louisville, where Gannett owns The Courier-Journal and operates a Regional Design Studio that lays out pages for area papers. Now, the guild said, The Star is seeking a change in its guild contract to allow the copy editor positions to be moved to the Design Studio as well.
Guild leaders plan to fight the proposal but they were unsuccessful five years ago in trying to stop Gannett from moving the design jobs.
On Tuesday, the guild proposed contract changes that included 3 percent annual raises, a $15 minimum wage for sports clerks and for custodians at the newspaper's printing plant, expanded time off for funeral leave and increased holiday pay.
The guild's post said its members suffered a 10 percent wage cut in 2009—and about half of those employees are still on staff. Some, the post said, "haven't yet recovered those losses, much less kept up with inflation."
In addition, custodians at the printing plant haven't seen pay raises in more than four years, the guild said.
"We're still trying to put out a quality product," King told IBJ. "And we've got some really good people here. But another hit to our staff is always tough."
Today, the guild represents roughly 75 employees, down from 120 in 2011.The paper has several other job openings and King said it's not clear whether those positions will also be eliminated.
On Monday, Gannett CEO Bob Dickey sent a memo to employees saying that the company would reduce its workforce by 2 percent as part of an effort to "assertively manage our costs" while working to transform "into a leading, next-generation media company." Politico said the 2 percent figure represents about 350 jobs.
He said most of those laid off would be notified by end of day Tuesday with all "actions" completed by the end of the week.
"Actions like these are difficult," Dickey wrote, "but I remain steadfastly committed to reinvesting in our employees and the capabilities required to sustain and grow our company so that we may continue to serve our customers with excellence."
Please enable JavaScript to view this content.