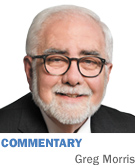 I recently attended the 2016 President's Breakfast and award ceremony at Martin University. It was a chance for me to learn more about a university here in Indianapolis that offers opportunities to many young people who likely would not experience them otherwise.
Let's get this out of the way at the start. There have been many challenges at Martin University in the not-so-distant past. The news reported by IBJ and elsewhere was anything but positive. I'll leave it at this—the situation was highly unstable back in 2013. Martin was in big trouble. But, thanks in no small part to a guy who flunked retirement, Eugene White's efforts since September 2013 have things on the upswing. There's positive news to report.
You might remember White was superintendent of Indianapolis Public Schools from 2005 to early 2013. He had recently retired from IPS and was looking for a place to live in the Atlanta area, closer to relatives in the South, when he got a call about the opportunity to lead Martin. The university and the community it serves are fortunate, indeed, that White wasn't ready to retire at the young age of 67.
Many readers might not be familiar with this local institution. Martin is a private, not-for-profit liberal arts university, founded in 1977 by the Rev. Boniface Hardin and Jane Edward Schilling, to serve the educational needs of low-income, minority and adult learners. Martin still holds true to the original mission, but now looks to include all who can benefit, both traditional and non-traditional students.
The school was created in a neighborhood with barriers to academic success. And yet, Martin, the only federally designated Predominantly Black Institution of higher education in Indiana, has been successful in offering opportunities to disenfranchised people. Many of its students, 90 percent of whom receive some form of financial aid, have been able to change their destinies through education. That means Martin is delivering on its mission to provide excellence in education while developing traditional and non-traditional students in an inclusive, supportive and healthy collegiate environment.
What does all that mean in real-life terms? One example I can cite is the story of a woman who worked in the medical profession for 17 years and was passed over several times for promotions. She was told time and again she wasn't eligible for the more lucrative job openings because she didn't have a college degree. So, she turned to Martin, where she found an environment conducive to learning and the flexibility and encouragement she needed to succeed. The university faculty and staff understood her needs and challenges and worked with her throughout the entire process, and now she is scheduled to graduate next May. This is a real-life story from Martin, where success is measured one person at a time.
The university isn't resting on its laurels. It recently announced the scheduled fall 2017 opening of a School of Education that will endeavor to teach and inspire a new generation of urban teachers. Its initial goal is to educate and place minority teachers in pre-K through fifth grade. The focus will be to establish high expectations of achievement and to provide the tools teachers need to encourage young minds to flourish.
Another initiative is to develop the Martindale-Brightwood Education Zone. As a way of supplementing economic development and increasing quality of life and economic opportunities, the Martin School of Education will join other stakeholders in the redevelopment of the Martindale-Brightwood area.
White said of the project, "Nowhere in Indianapolis is the education challenge greater than in the Martindale-Brightwood neighborhood. We see ourselves as a unique resource for the neighborhood, and this is a once-in-a-lifetime opportunity for us."
The dreams of Martin University's founders appear to be alive and well. There are still many hills to climb and challenges to overcome. But in this business, the hard work and heavy lifting is never done.
Turnarounds take time and are never easy. White, the board of trustees, the faculty and staff, and the students of Martin are to be commended for their efforts to date. As you might imagine, money is always a scarce resource in these situations. If you are so inclined, your financial support is appreciated and will go a long way in helping Martin University fulfill its mission.•
__________
Morris is publisher of IBJ. His column appears every other week. To comment on this column, send email to gmorris@ibj.com.
Please enable JavaScript to view this content.