After working in retail management for four years, Rich and Jodi Scheve decided to take business into their own hands—and their own garage.

Passing on business plans for Subway and South Bend Chocolate Co. franchises, the couple skirted heavy franchise fees (sometimes upward of $50,000) and started Twisted Wick Candle Co. without a loan.

The Scheves chose to make candles because of the self-marketing opportunities that the home goods create.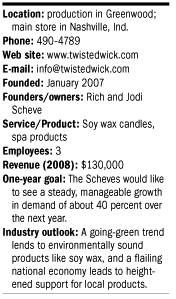 "We love how scent can evoke memories and emotions in people," Rich said. "People remember our product. It's also almost perpetual advertising in people's homes because visitors come in and see them."

Twisted Wick started with the packaging, a decidedly more modern approach to candle design with contemporary labels and jars, compared to competitors around the Scheves' main store in Brown County. Using soy wax and their patented spiraling wick allowed the couple to create a clean-burning candle.

In a time where environmentally sound products are not just popular but necessary, a completely sustainable and locally made candle appeals to Hoosiers, Jodi said. The soy wax can be washed out of the container with soap and water and it can be used as a tumbler.

Since its inception in 2007, Twisted Wick has inked wholesale deals with mega-spas like California-based Spa Terre and Walt Disney World Resorts, as well as retailers in Arkansas, California, Georgia and seven other states.

Sharon O'Donoghue, executive director of the Business Ownership Initiative of Indiana, said smaller companies positioning themselves as brands for larger companies usually create the most lucrative small businesses.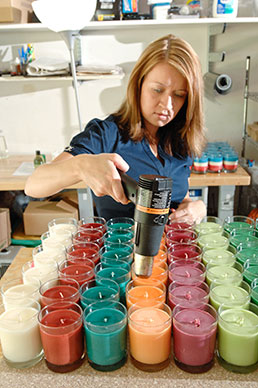 Jodi Scheve of Twisted Wick Candle Co. uses a heat gun to smooth the tops of candles. (IBJ Photo/Robin Jerstad)
"What we are finding out is that as people are creating businesses, there are lower barriers to entry because storefronts have transitioned from mainstreamed storefronts to a Web presence," she said. "We spend a lot of time talking about globalism, like selling our wares to someone in Europe or Asia, but to a small-business owner, global can mean expanding over state borders."

Locally, Static Salon in Broad Ripple, Indianapolis Art Center and Arts a Poppin' on Massachusetts Avenue carry the candles.

Several locations, including Spa Terre, carry Twisted Wick's line of soaps and lotions. The Scheves decided to add these spa products to their merchandise lineup a year ago, because they require similar equipment and are made using a similar process to candles. Twisted Wick makes more than 400 products.

Massachusetts-based Yankee Candle Co., which competes nationally, also is attempting to appeal to the green masses with its Beanswax line of soy wax candles encased in sustainable packaging. The Scheves say their small scale creates an advantage over giants like Yankee.

"When Yankee wants to launch a new scent, they have to make at least 50,000 of them," Rich said. "We can make as few or as many as we want to try a new scent." Twisted Wick has more than 88 candle scents, including recent additions like "fireside" and "fresh cut grass."

Shakeen Reed, co-owner of Static Salon in Broad Ripple, said Twisted Wick candles are its highest-selling retail item, even higher than any hair product the salon carries. Static Salon makes between $700 and $800 a month on the candles and lotions.

Reed also said he and his wife, Shannon, provided candles to their day care center and doggie day care to advertise their salon as a Twisted Wick carrier. The Scheves said this kind of pass-it-on advertising is the foundation of Twisted Wick's marketing campaign.

"We don't do traditional advertising like newspapers," Scheve said. "We use local trade shows and word-of-mouth for marketing. Direct contact with customers helps to build a product's brand."

The Scheves would advise other budding entrepreneurs to conduct preliminary market research and open-minded business planning. Also, Rich stressed avoiding taking out large loans for startup costs.

"If you're going to start your own business, don't do it emotionally," Rich said. "People pigeon-hole themselves into one idea and aren't open to others. Write plans for several ideas and choose the best one for you."•