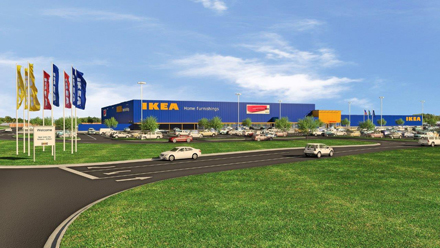 When Ikea enters a market, other retailers, hoteliers and fast food chains tend to latch on, establishing locations within a stone's throw of the Swedish furniture giant.
But that won't be the case in Fishers, as local officials are taking steps to preserve the vacant land surrounding the 35-acre Ikea site near Interstate 69 and 116th Street for office development.
The Fishers City Council this month approved a new zoning designation—referred to as an "employment node"—for the area, despite objections from the majority property owner. The zoning puts an emphasis on multistory office buildings featuring outdoor plazas and public green space, with a possible mix of some retail and restaurants. Drive-thrus are prohibited.
Fishers-based Sunbeam Development Corp. owns almost all the property affected by the rezone.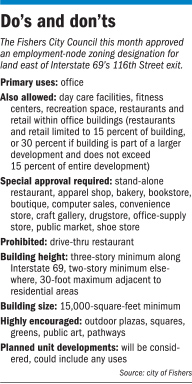 Ken Kern, director of properties for Sunbeam, declined to comment for this story, but made remarks at the Oct. 17 City Council meeting where the rezoning was approved.
Kern urged the council to reconsider its plans and instead continue to work with Sunbeam and trust that the company will allow only high-quality developments, which he said it has a history of doing.
"Fishers needed someone to come in and do exactly what we've been doing for the past 30 years," Kern said. "Fishers welcomed us. We worked very closely with the city for years and years. … So, we're a little shocked, I guess."
At one time, Sunbeam owned 1,000 acres in the area; it still has 250-300 undeveloped acres near Ikea.
The last time the area was zoned was in the 1980s, when Sunbeam created a planned unit development for its Exit Five Corporate Park, which includes the land where Ikea is constructing its 289,000-square-foot store.
Sunbeam has a reputation for being selective with its property along the interstate, but after Ikea's November 2015 announcement, Sunbeam officials told IBJ they had been talking to other major retailers and expected more projects within the next year.
Fishers, however, has been hesitant to quickly pull the trigger on other developments. Mayor Scott Fadness stressed after the announcement that the city would strive for "a real, conscious, purposeful development."
Block
This May, the City Council passed an ordinance giving itself temporary oversight of any project along the corridor, even if it met existing zoning standards. The move gave city officials time to prepare zoning guidelines that aligned with their vision for the land.
Council member Richard Block described the move as the city's way of playing catch-up.
"I think [Ikea] heightened everyone's sensitivities," Block said. "Ikea is a big draw."
The council unanimously approved the employment node zoning regulation on Oct. 17, with several members arguing that the suburb has significantly changed since the 1980s zoning.
"We've just gotta make sure that we're on that cutting edge of what develops," council member Todd Zimmerman said at the meeting. "This is the gateway to Fishers."
The corridor is already proving to be attractive for office development, and the city wants to capitalize on that growth and provide more options for entrepreneurs.
Since 2003, nearly 800,000 square feet of office space has been added in that region, according to data from commercial real estate firm JLL. Before 2000, only 30 percent of the office space in the northeast region of Indianapolis was north of 96th Street, in Fishers. Now, it accounts for 52 percent of the office inventory.
"There's no reason to think office growth would stop in Fishers," said Kevin Gillihan, vice president of agency leasing for JLL.
And while Ikea and entertainment venue Topgolf, which is expected to also open near the I-69 116th Street exit, aren't common attractions in office parks, Gillihan said those businesses could be "huge amenities" in the eyes of office builders.
"The fact that they picked 116th and 69 says a lot about the current business environment," Gillihan said. "They could have picked anywhere in the Indianapolis area to be."
Despite the emphasis on office space for the corridor, council members and the city administration said the door is not closed to retail and restaurants. The city just wants a say in what retail will be allowed, which is why those proposals will require additional approvals.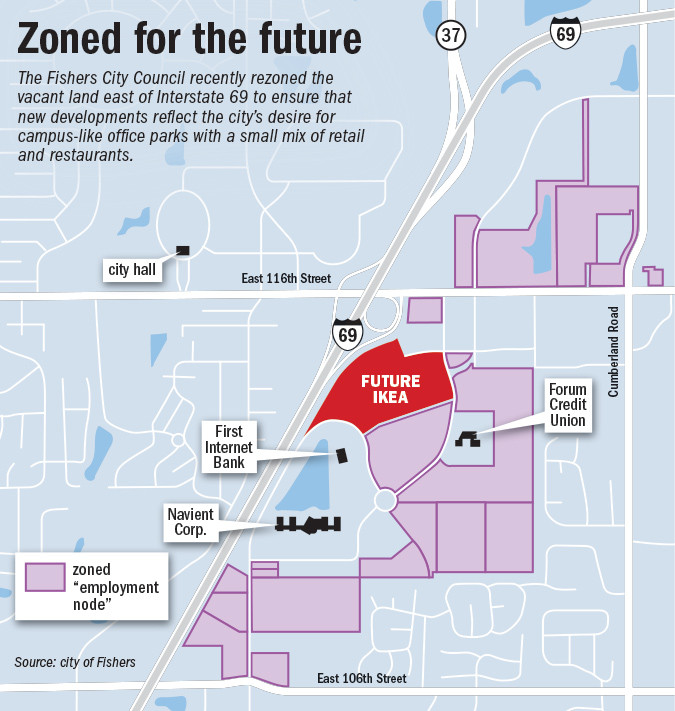 "If we were to just leave it alone … I could be looking at Home Depot going up, just big-box retail," council President John Weingardt said. "And that's not what we want, and that's not what our residents want."
Block voted for the new zoning but said he would like to continue to refine the language so the city's vision is clear to developers and so Sunbeam can continue to move forward with projects.
"I still have some concerns about the limitations in place, particularly the retail," Block said.
Kern told the council he has four potential retail projects for the 116th Street corridor that he had been expecting to introduce to the city in the next several weeks.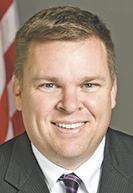 Zimmerman
"It's going to be very interesting to see how we proceed and whether we're going to be able to do anything," he said.
The city administration has also teased that more development announcements could be made next month.
"There's more coming," Weingardt said.
Meanwhile, Fishers is still determining how to update the zoning south of I-69's exit at 106th Street.
The May ordinance that gave the City Council special oversight of projects near 116th Street also applied to the 106th Street area.
While the council has been discussing the best zoning designation for the area, projects near the exit have been moving forward.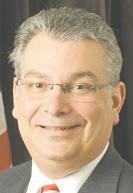 Weingardt
Valparaiso-based Good Hospitality Services LLC recently broke ground on a 99-room Fairfield Inn & Suites on the southwest corner of 106th Street and Crosspoint Boulevard. The $8 million hotel could open by May, in time for the next Indianapolis 500.
Two office buildings could begin construction soon in Thompson Thrift's Delaware Park, at the southeast corner of the interstate and 106th Street.
Also within Delaware Park, Indianapolis-based Stanley Security has started work on its nearly $16 million headquarters, and Sun King Brewing Co. should break ground next year on its destination taproom and brewery.
No timeline has been provided for when updated zoning for 106th Street might be discussed.
"Will we put this type of employment node in that area? We could," Weingardt said. "But we're trying to be thoughtful about that."•
Please enable JavaScript to view this content.