One store could be a game changer for Fishers.

After a decade scouting the area, Ikea announced Nov. 10 that it would open a 300,000-square-foot store near Interstate 69 and 116th Street in fall 2017. It will be the first in Indiana.

The news sparked speculation about what could be next. Hotels, restaurants, retailers and even tech companies have followed Ikea stores into other communities.

In Fishers, hundreds of acres of undeveloped land surround the 35-acre site the popular Swedish home furnishing company selected—land now ripe for new projects.

"We know as the rumors started percolating that brokers and other retailers were waiting to make decisions until after we did," Ikea spokesman Joseph Roth said.

The store won't open its doors for two years, so the ripple effect might not start immediately, but industry leaders say the conversations have started. And one development official said announcements could come in as little as six months.

Ikea will be in Exit Five Corporate Park, which is owned by Fishers-based Sunbeam Development Corp. Originally, Sunbeam reserved the land for corporate headquarters—and a couple have located there. But Ikea was a "fantastic fit," according to Sunbeam Director of Development Chad Lindley.

At one point, the company owned 1,000 acres in the area and has controlled development there for decades. Today, Lindley said, about 300 acres remain available and Sunbeam has been talking with other major retailers.

"We're a little bit different from other developers," Lindley said, calling Sunbeam patient about selling parcels. "We think Ikea, obviously being a regional draw, will continue to help us in our momentum of development."

Lindley said he expects to see project announcements in six to 12 months, and said the firm has been working with city officials about the best use for the land.

"We want to be very careful about that," Fishers Mayor Scott Fadness said. "It's not a free-for-all but rather a real, conscious, purposeful development that we can be proud of in the long term."

Local experts say a mix of retail, restaurants and hotels is likely to follow the store, but none have been named.

Ikea is a destination attraction, with only 41 U.S. stores. Customers travel as far as 200 miles to visit, then spend an entire day or weekend in the area.

"There are companies that come to areas [and] make a difference … and then there are those that are just game changers—and Ikea is one of those," said Mo Merhoff, president of Onezone, the combined chamber for Fishers and Carmel.

Sunbeam officials have long thought the area is well-suited for a hotel. Lindley said he could see the company working with a variety of restaurants as well.

Experts say the announcement put the city on the national retail map.

Feinberg
"Indianapolis has been underserved by many retailers," said Richard Feinberg, professor of consumer science at Purdue University's College of Health and Human Sciences. "It's a signal to location people that this is a good place to be."

If other Ikea locations are any indication, growth is inevitable.

Michael Hicks, director of the Center for Business and Economic Research at Ball State University, said research by Swedish academics has shown that a new Ikea store can increase revenue in a local home furnishing sector 20 percent and employment by 17 percent.

West Chester, Ohio—just north of Cincinnati, where Ikea opened a store in 2008—has seen hundreds of millions of dollars in new investments. Only a few hotels existed in the area before Ikea; now, there are nearly 2,000 rooms within a quarter-mile of the interstate exit near the store. Cabela's, Bass Pro Shops and Dick's Sporting Goods are among retailers that have opened since Ikea did.

A $25 million development with a Holiday Inn, steakhouse, banquet center and chapel is now open across the street.

The growth took years to gain momentum, though.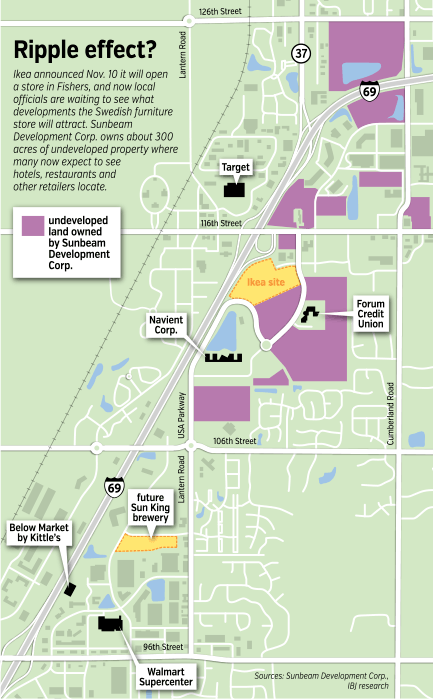 "When Ikea came, [the area] was slowly starting to be developed," said Joseph Hinson, president and CEO of the West Chester-Liberty Chamber Alliance.

But Ikea doesn't "mind being first," he said. "They know the customers will come, and once they come, it becomes what I call a domino effect."

At the end of September, Ikea opened a store in what's known as the Cortex Innovation Community in St. Louis. The area was already designated as an innovation district and home to DuPont Nutrition & Health and Boeing Co. But local business sources credit Ikea with attracting more technology companies, including Uber, Pandora and Square.

"The Ikea decision probably created the greatest amount of buzz and excitement on social media and in the community and around the entire region than we've seen of any single announcement," said Joe Reagan, president and CEO of the St. Louis Regional Chamber. "The Cortex district has been grabbing a lot of new investment."

But not everyone can be winners.

Sales at similar retailers could dip due to Ikea's pull, Purdue's Feinberg said. The company brings in $90 million annually at an average U.S. store and reported earning $4.6 billion nationwide for fiscal year 2014.

"There's a trickle-down effect. The money has to come from somewhere," he said. "It comes from other retailers."

Target and Walmart—both near the Fishers Ikea site—sell home goods but also groceries and others items not found at Ikea. Feinberg said, those retailers shouldn't struggle as much as home furnishing stores. "I'd be very concerned if I was in their shoes," he said. "How are you going to compete with Ikea?"

But Eric Easter, CEO of Kittle's, said the company started researching the impact of Ikea when the new Columbus, Ohio, store was announced and the data showed a positive impact on other furniture stores because it draws a larger pool of customers to the area.

"We're honestly very excited to have them in Columbus, Ohio and to have them here," Easter said. "We do a different thing. We play the game differently. One's not right and one's not wrong."

Some local officials are more optimistic.

"This is one of those all boats rise" situations, Merhoff said. "This is a big deal for central Indiana."•