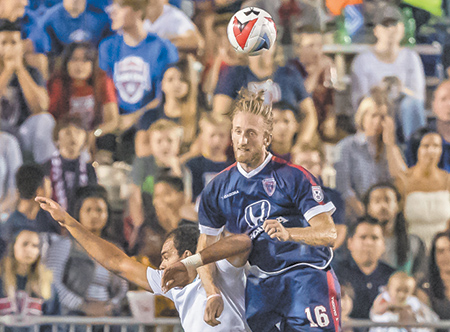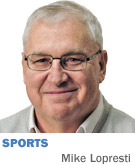 Calling all non-soccer believers. Still room on the Indy Eleven bandwagon, just in time for the biggest game in franchise history. Don't know a midfielder from a popcorn vendor? Not a problem. All are welcome at The Mike.
That's Michael A. Carroll Stadium at IUPUI, where the Eleven have an 18-game home unbeaten streak, and a 37-11 goal advantage this season. The Colts should wish for such a thing down the street at Lucas Oil Stadium.
Never mind that you're probably going to have to use portable toilets, and the food for the makeshift concession stands has to be cooked at an IUPUI kitchen and carted over. Glitzy, the place ain't. Crowded—the North American Soccer League's second-best attendance, at nearly 8,400 a game—boisterous and colorful, it is. Especially the Brickyard Battalion—a collection of soccer fans/supporters/zealots who fill one end-zone section 2,000-strong, stand the whole game, fire off smoke on Indy goals, and keep the chants coming.
Or as Coach Tim Hankinson said, "It's the stadium that never stops singing."
Or as BYB President Josh Mason said, "My requirements are, you don't sit for 90 minutes. For 90 minutes, you're engaged. There's a halftime for a reason. That's when you're allowed to get your beverages and use the bathroom."
We mention all this now because, on Nov. 5, FC Edmonton will be in town for the NASL semifinals. First playoff game ever for the 3-year-old club. To mark the occasion, here are 11 things to know about the Indy Eleven.
1. They won 14 games combined their first two seasons; they'd won 15 this year going into the final regular-season game Oct. 29. This uptick comes largely from 13 new faces, many of whom have been around the block, not to mention the world. Eleven are 30 or over. Five have been team captains in far-flung places.
2. Hankinson is a New York native who has coached in Major League Soccer, and from Guatemala to India to Iceland. Now he's helping stoke the sport's fire in downtown Indianapolis.
3. They're an explosive bunch, with 50 goals for the season, 15 by Eamon Zayed. So lots of smoke going off from the BYB.
"That's not cheap," Mason said. "We're well over budget for smoke because we've scored way more goals than we ever have. We're kind of mad at Eamon for it."
4. The franchise comes of age with a post-season berth. "It takes time to get to a place," owner Ersal Ozdemir said. "Especially in this business, there's not a book to start a sporting team. It's not one [where] you just go down the street and say, 'How do you make cupcakes?'
"It shows that not only can we build an organization from scratch, sell out games, but now we can also deliver a team that can win. People were saying last year, 'Great. You're selling out all these games, but the team sucks.' Now they can't say that anymore."
5. Here in the city that built a football stadium before it had a team, Mason and friends organized a soccer booster club three years before the Eleven played their first game. Now look at the Brickyard Battalion, with 3,500 registered members, of all ages. "It's not what you think. It's not just millennials. It's guys like me. I'm 39," Mason said. "It's a great hodgepodge of everyone."
6. That fan support is meaningful. Note the home unbeaten streak.
Mason: "These guys tell us all the time how much it fuels them. I think our at-home record screams a lot of what that means."
Ozdemir: "People overlook some of the deficiencies of the venue, because they get more into the feeling. They see we don't play music during the game. The fans write songs, they sing the songs, and for those who aren't soccer fans who come and see that, it looks like live entertainment every game.
"If you went to a game without that, it would just seem like 11 guys chasing the ball. … It would be almost like taking away the soul of the organization."
Hankinson: "Quite honestly, Carroll Stadium, if I was bringing a player in I wanted to sign and said, 'This is your home stadium,' it's not going to be something that impresses them. But it's the fans that make the place come alive."
Zayed: "I can't put my finger on it. We've just made it a fortress. I guess it's that X factor."
The opponents appreciate it, too—even the poor goalkeeper, who has to stand in front of the section and incur its wrath for a half.
"Nine times out of 10," Mason said, "those guys turn around and applaud the group."
7. The Eleven have known this semifinal was coming since they clinched the NASL spring season title—four months ago. The fall season didn't mean much, but they stayed interested enough to finish second.
Said player Bard Ring: "Coach Hankinson has definitely kept his foot on the gas pedal the whole year. We went, like, two or three months without saying the word 'playoff'—trying to get it out of sight, out of mind."
But it's here. Finally. "We've been looking forward to this game since the end of June," Zayed said. "That's a long, long time."
8. They play at a track stadium, where Florence Griffith Joyner set a world record in the 100 meters in 1988 that stands to this day.
9. It's still a track with a soccer field in the middle. The Eleven desperately hope a playoff helps their plea for a new stadium.
"Nothing fancy," Ozdemir said. "Just a venue that is safe and clean and we can proudly say, 'That is where we play.'"
And given the robust attendance despite restroom issues and no cover from the weather, he can claim there is certainly an appetite for soccer in Indianapolis. "It's not one of those things, 'Build it and they will come,'" he said. "They have come."
But it's going to take some convincing to get the Legislature to come up with the dough.
10. Can Indy be a soccer city? Ozdemir mentioned local demographics. Lots of young people, lots of international newcomers who played the game. Lots of potential customers.
Zayed told the story of getting here last winter, and how his Irish accent often drew questions of what he's doing in Indianapolis. Playing for the Eleven, he answered.
"The first 10 people asked, 'Who? Never heard of them.' Now it's the opposite. Obviously, the Colts are massive and the Pacers are massive. I do feel like there's room for a massive soccer team here."
11. So now, Edmonton. Not exactly the New England Patriots coming to town, but The Mike should be burning. Fair warning to the Edmonton keeper from the Brickyard Battalion. "He's going to get an earful," Mason said. "I hope the smoke bothers his eyes because we score so many."•
__________
Lopresti is a lifelong resident of Richmond and a graduate of Ball State University. He was a columnist for USA Today and Gannett newspapers for 31 years. His column appears weekly. He can be reached atmlopresti@ibj.com.
Please enable JavaScript to view this content.