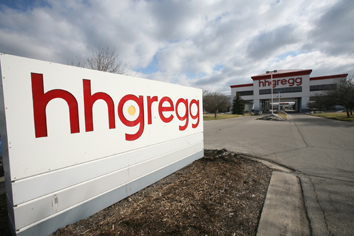 HHGregg Inc. has terminated Keith Zimmerman as chief merchandising officer and begun a search for what will be the fifth person to hold the position since 2012, the company said late Friday in a regulatory filing.
Zimmerman joined the struggling Indianapolis-based appliance and consumer electronics chain in December 2014 after serving eight months as chief merchandising officer at PC Richard & Son, an electronics and appliance chain based in Farmingdale, New York. He previously spent more than three decades at Wisconsin-based American TV & Appliance, which underwent bankruptcy liquidation in 2014.
HHGregg disclosed the dismissal in a Securities and Exchange Commission filing that offered no elaboration on the reasons.
In an interview with IBJ, Chris Sutton, HHGregg's senior vice president of marketing and e-commerce, said: "Obviously, we are in the midst of a transition at HHGregg, and we need to move a little faster in the merchandising area. We need a little more creativity in in the merchandising plans, along with the products we are carrying."
Sutton added: "Keith worked hard at HHGregg. We appreciate his efforts. We just felt it was time for those reasons to go in a little different direction."
Zimmerman, 58, did not respond to messages sent to his LinkedIn account.
HHGregg, which operates 220 stores in 19 states, has seen more than 10 senior executives depart since 2012, with some positions turning over multiple times.
The revolving door coincides with a sharp drop in sales of televisions and other consumer electronics—a sector that has seen stiff online competition and a sharp downturn in prices.
Robert Riesbeck—who joined HHGregg as chief financial officer in September 2014 and became acting CEO in February before winning the permanent job in August—has responded by slashing expenses and doubling down on appliances, the company's healthiest and largest product line.
Last month, he also gave the consumer electronics business a boost by striking a deal to carry Vizio TVs, home theater displays and sound bars. The manufacturer has seen explosive market share growth by sharply underpricing premium brands like Samsung and LG.
In the quarter ended June 30, HHGregg saw same-store appliance sales climb 3.7 percent while same-store consumer electronics sales tumbled 17.4 percent.
In his interview with IBJ, Sutton said: "We know there is a lot to work on at HHGregg, and we are determined to get HHGregg going in the right direction."
The hard times have decimated the company's stock price. HHGregg shares, which topped $30 in mid-2010, now trade for $1.74 each.
Zimmerman had succeeded former Sears marketing executive Jeffrey Haines, who spent 20 months in the post.
Haines had replaced Michael Larimer, who was chief marketing officer from September 2009 through February 2012 and stepped back into the job in March 2013 after former Sears executive Douglas Moore lasted only four months.
Please enable JavaScript to view this content.