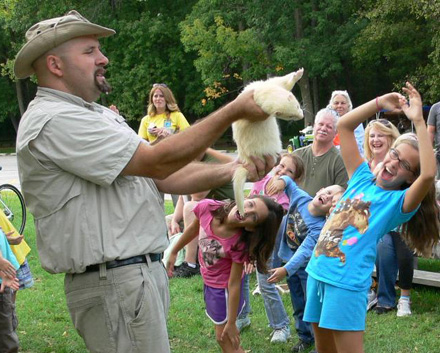 No matter what else happens, an animal's gotta eat.
That fact of life is what led not-for-profit Animalia Inc. to decide it was time to shut its doors. 
The Boone County-based group, whose animal education programs have reached some 200,000 people over the past decade, says its bookings and grant funding took a nosedive this year, leaving the group without enough income to continue operating in the black.
"We can make it until Thanksgiving, but if we went beyond that we would be in the red," said Joel Vanderbush, Animalia's executive director.
 
The group, which is based in Thorntown, will present its final program Nov. 19 at Central Library in Indianapolis.
Since its founding in 2007, Animalia has done close to 3,000 animal education programs at schools, libraries, nature centers and other venues in the Indianapolis and Lafayette areas. It can draw from its collection of 130 native and exotic animals. The group's largest single client is the Indianapolis Public Library, where Animalia did 132 programs this summer alone.
But for reasons Vanderbush said he can't explain, bookings have dried up this year. Last year, Animalia did 414 programs. This year, he said, that number dropped to 324. 
"We marketed more this year than we ever had before, and to no avail," Vanderbush said. "It stinks."
A drop in bookings poses a big problem for a group like Animalia, which makes most of its income from programming fees. 
According to tax records, Animalia reported revenue of $107,249 and expenses of $102,216 last year. The lion's share of that revenue–$80,372–came from fees organizations paid for Animalia to present programming. The remaining $26,877 came from contributions and grants.
The $102,216 in expenses included $8,800 for animal food alone.
Vanderbush said Animalia's second-largest program grant, from an after-school program he declined to name, was not renewed this year.
Looking ahead, bookings for 2017 were practically nonexistent, which Vanderbush said is unusual this late in the year. 
"Normally, we're booked all the way into the spring right now."
"Something's happening out there in the community. Everyone is just tightening up. They're not really booking right now," Vanderbush said.
With the drop in revenue, Vanderbush said, his organization's board decided to shut down Animalia rather than take on debt to continue operations. 
Animalia's collection of 130 animals ranges from foxes and birds of prey to potbellied pigs, wild cats, a donkey and a kinkajou – a rainforest mammal also known as a "honey bear."
With operations winding down, Animalia is working to place these animals in new homes.
Vanderbush said he's found placements for 107 creatures, and some of them have already been transferred to their new homes. He said a handful of facilities in Indiana, Illinois and Georgia have agreed to accept most of the animals, including Columbian Park Zoo in Lafayette; Potawatomi Zoo in South Bend; the Moraine Ridge Wildlife Rehabilitation Center in Valparaiso; the Scovill Zoo in Decatur, Illinois; and the North Georgia Zoo in Cleveland, Georgia.
Vanderbush, a zoologist who worked in zoos for 10 years before establishing Animalia, said he was upset over the decision but has come to accept it.
"It's been a personal dream of mine to be able to do it," Vanderbush said.
"Dreams do, sometimes, of course come to an end," he said.
Animalia's website will continue to exist as an educational resource and as a means to raise money for other animal organizations, Vanderbush said.
 
Please enable JavaScript to view this content.