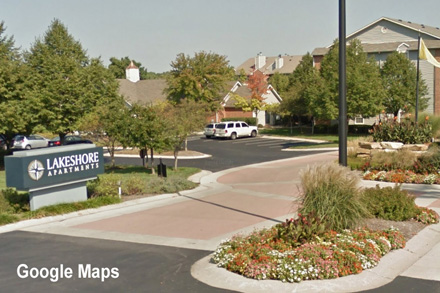 A local apartment firm is embarking on a major renovation of a highly visible north-side property that it paid a steep price to acquire.
Carmel-based Birge & Held Asset Management LLC bought the 740-unit Lakeshore Apartments complex on East 82nd Street west of Allisonville Road in late September and now is spending more than $10 million to rehab it, company president Andrew Held told IBJ.
Held declined to divulge exactly how much Birge & Held paid for Lakeshore but said the price was between $70 million and $85 million, representing the single-largest apartment transaction the Indianapolis market has ever seen.
Still, with average rent of $840 per month that's well below the north-side submarket and its newer and trendier apartment properties, Lakeshore presents Birge & Held with a lucrative investment opportunity.
"That's the goal, to be able to push the rents a little bit," Held said. "The rents there are very low for that submarket."
Atlanta-based pension fund adviser Invesco developed the 44-building Lakeshore in 1988 and held it until 2007, when Norfolk, Virginia-based Harbor Group International bought the property. Birge & Held purchased it from Harbor Group.
Steve LaMotte Jr., senior vice president of CBRE's central Midwest multifamily team, represented Harbor in the sale and said Lakeshore received 15 bids from firms in such cities as Atlanta, Chicago, Los Angeles and Philadelphia.
Occupancy typically has been strong, fluctuating between 94 percent and 96 percent.
"It's just been a really, really stable property," LaMotte said.
Situated in the Castleton-Clearwater Crossing area, Lakeshore is in need of re-freshening. It asks rents well below newer apartment developments in the area, such as 82 Flats, Ironworks, Lake Clearwater Apartments, and the forthcoming River North at Keystone Apartments from PK Partners.
Yet the complex provides a lot of upside, LaMotte said.
"This is probably, still, the most recognizable [apartment] property in the entire metro area," he said. "It doesn't mean they're the nicest and prettiest [units], but they're the most visible."
The renovations will include ew kitchen countertops and cabinets, in addition to appliances, flooring and bathroom upgrades. Building exteriors also will be spiffed up.
Birge & Held has hired Indianapolis-based CRG Residential LLC to conduct the rehab, which could prove quite challenging. The goal is to renovate all 740 units within 12 months, equating to roughly three per workday—even while the units are occupied.
"The logistics behind that are pretty challenging," Held said. "It will look completely different, which will be neat to see, particularly on a project of that size."
Birge & Held typically buys apartment complexes that need rehabbed, but this is the biggest project the company has undertaken. It's also the firm's first purchase on the north side. The bulk of its portfolio consists of what would be considered "B to B-" properties, Held said.
Held founded the firm in 2008 with real estate developer Tag Birge. It owns and manages about 5,000 units, mostly in Indiana and Ohio.
Please enable JavaScript to view this content.