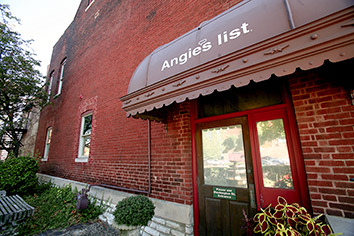 Around this time last year, Angie's List CEO Scott Durchslag told analysts that he preferred developing an organic growth plan to turn around the struggling company, as opposed to seeking a buyer.
This year he's striking a different tone.
Durchslag told analysts on the company's third-quarter earnings call Tuesday morning that the company has hired investment bankers to explore strategic alternatives—a phrase often used by companies looking to sell themselves. The firm also is gearing up for layoffs, officials said, as part of an effort to find between $15 million and $20 million in cost savings. 
The timing of the "strategic alternatives" announcement is somewhat curious, given that Angie's List is in the middle of its so-called "profitable growth plan," and its freemium model hasn't been in place for more than one quarter. 
But Durchslag said the timing is apt and that the company's board of directors—which activist investors have molded to their liking in recent months—will decide the best route for enhancing shareholder value.
"Since I've gotten here, I've been humbled by the interest we've seen in our company from multiple parties—not just those in our space," Durchslag told analysts on the earnings call.
"And given that, and given our strong progress, we just think it's the right step at this time. We really want to look at the full set of options across the broadest range of strategic alternatives to make the best choice to maximize shareholder value. And rather than being reactive about it, we think it makes sense to be proactive about it and do it in kind of a structured way," he said.
Angie's List didn't specify how many jobs it would eliminate as part of its cost-cutting plans. But in emailed remarks, a spokeswoman said the cuts would target "non-revenue generating headcount."
Angie's List has about 1,800 employees—the vast majority of which are in Indianapolis.
News of layoffs and a potential sale come on the heels of an underwhelming quarter, in which the company lost $16.8 million and saw revenue dip for the fifth straight quarter.
Angie's List generated $79.7 million in revenue in the latest quarter, below Wall Street expectations of $82 million. Analysts also forecast a loss of 14 cents a share, but the company posted a loss of 28 cents per share.
The losses aren't surprising for a company that's spending to execute a turnaround, but investors may not have much patience for losses and revenue declines. In a phone interview, analyst Kerry Rice of Needham & Co. told IBJ that the company has burned through cash at a rate that may not be sustainable.
"They spent $15 million in the quarter and have about $37 million left," Rice said. "If they have another $15 million spend, it's going to be a challenge."
There were a few bright spots for the company. It said it added 1.6 million members in the quarter, about 99 percent of which were free members. That showing was four times greater than the best quarter the company had when it only allowed paying members.
It also reported notable growth in various engagement metrics, including a 175 percent year-over-year growth in unique new member searches on the site.
But that growth has yet to positively impact service provider revenue, which makes up the bulk of the company's revenue. It slipped to $66 million in the latest quarter from about $70 million in the year-ago quarter.
It's unclear who might be interested in buying the company. New-York-based InterActiveCorp/IAC offered about $500 million, or $8.75 a share, to buy the company last year, but Wall Street-focused news outlet The Street reported last month that IAC is no longer interested. 
Chris Terrill, CEO of Angie's List rival HomeAdvisor, which is owned by IAC, told IBJ in June that the company was taking a wait-and-see approach.
"Depending on where the business goes, maybe it makes sense, or, if it's degrading faster than we thought, it might not make sense," he said.
Angie's List shares opened the trading day at $8.44 a share, up 10 percent from Monday's close at $7.70. But shares slid since then, trading around $7.86 at noon.
Please enable JavaScript to view this content.