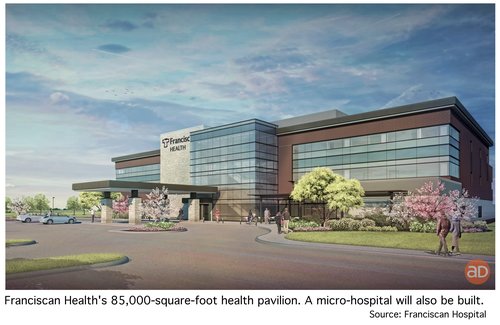 Franciscan Health said Tuesday afternoon that it plans to build a $50 million medical complex and micro-hospital near U.S. 135 and Stones Crossing Road, a fast-growing area of Johnson County.
The project will include an 85,000-square-foot outpatient and specialty care pavilion, which will connect to a 20,000-square-foot micro-hospital with an emergency department.
"White River Township in Johnson County has experienced dynamic growth in recent years and we have been researching and planning the development of a medical complex that best serves the overall needs of people in this area and beyond," Franciscan Health CEO James Callaghan said in a written statement.
Franciscan is the second hospital system in central Indiana to jump on a micro-hospital trend that's spreading across the country. The small-scale inpatient facilities often have just eight to 10 beds for emergency, urgent care and observation and are typically meant for shorter stays.
St. Vincent announced this summer it will open eight small hospitals where patients can be treated for medical conditions that aren't life-threatening. The first four hospitals are planned for Noblesville, Plainfield, Avon and the Castleton area of Indianapolis. The first is expected to open next summer.
St. Vincent also plans to open three ambulatory care centers next year in Brownsburg, Crawfordsville and Plainfield. They will offer primary care, urgent care, imaging and physical therapy.
Franciscan expects to begin construction on its Johnson County facilities in March 2017, with completion in late fall 2018.
The hospital system was the second health care provider to announce a major Johnson County construction project Tuesday. In the morning, Johnson Memorial Hospital said it plans to spend $42 million to build a new emergency and outpatient building and a rehabilitation center on its main Franklin campus, the largest project in the hospital's history.
The Franciscan pavilion will be three stories and include 58 patient exam rooms for family medicine and internal medicine services. The complex will include six consultation rooms that can be used by clinical educators.
It also will include a pediatric wing with 16 exam rooms; a 15-room "flex clinic" that specialty physicians will use on a rotating basis; a rehabilitation area with seven treatment bays for hand therapy, speech therapy and other activities; office space for obstetrical and gynecological care; and a wellness/spa area.
The micro-hospital will offer some of the same services found at Franciscan Health Indianapolis on South Emerson Avenue and at Franciscan Mooresville—each roughly 12 miles away—but on a smaller scale.
It will have about 10 emergency exam rooms, which will operate around the clock, and eight in-patient rooms.
"Our micro-hospital is a model of value-based care and focuses on providing the right kind of care at the right time at the right location for patients residing in that area," said Robert Brody, senior vice president of ambulatory services and chief operating officer for Franciscan Alliance, parent of Franciscan Health.
This is the only micro-hospital Franciscan Health currently plans to build, a spokesman said.
Please enable JavaScript to view this content.