It's not uncommon to end up wearing some alcohol when you visit a Broad Ripple establishment.

But rather than an accidental elbow from a patron of Landsharks or a misplaced Jager Bomb at Brothers, the stray alcohol at the Hibachi Bar Japanese Steak House (921 Broad Ripple Ave., 757-2891) comes courtesy of a spray bottle of sake.

It's been a while since I've been to a Japanese steakhouse, but I don't recall the standard tableside antics involving the chef insisting patrons open their mouths so he can use them as targets—which our grillmaster did. And he kept firing even after it was clear that his aim wasn't good; I was getting enough on my shirt to make me concerned about being pulled over on the ride home.

You've been warned.

Taking over the space last occupied by Sabbatical, the new eatery does what such places do, managing both the food and the theatrical elements just fine. Take a seat at a grill-surrounding table, order up, and soon your personal chef will be in front of you, amusing customers with culinary sleight of hand, including juggling raw eggs with a spatula and making a tiny onion volcano on the performance grill.

Soup and a small salad are included with hibachi entrees. Ample portions of rice and veggies get dished directly onto plates—where else can you get food served this hot?—and the various combinations of shrimp, fish and steak are as simple and satisfying as one should expect. Steak and lobster come in at $35 for dinner, chicken at $16, with a variety of combos in between that can include flounder, calamari, sea scallops and more, with enough in every portion for you and your guests to order different items and share.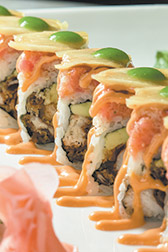 Sushi proves an unexpected highlight.
You might have trouble hearing your guests, though. The retrofitting of the restaurant requires large ventilation fans positioned over each table—necessary to keep the restaurant from smelling like a McDonald's grease fryer. They certainly do their job, although the noise when they're turned on does mean you're pretty much done with conversation during the culinary show.

While the hibachi tables now dominate the space, this dinner-and-cooking show isn't your only option. I'm happy to report that there seems to be no slacking off at the sushi bar. We chose Spider Wig Roll ($14) from a longish list of specialty sushi and found it colorful and delicious, with an eclectic composition of soft-shell crab, pineapple, avocado and tuna hitting distinctive flavor notes ranging from sweet to medium spicy.

Three of us were more than satisfied for $80. But, of course, that doesn't include the dry-cleaning bill.•