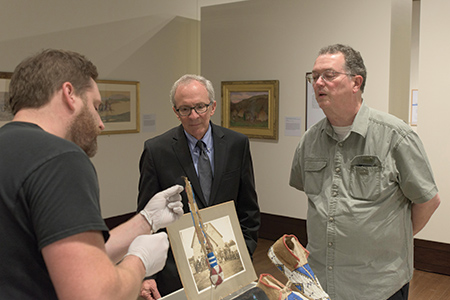 John Vanausdall, president and CEO of the Eiteljorg Museum of American Indians and Western Art, first asked Tennessee Titans owner Kenneth "Bud" Adams more than a decade ago about acquiring his art collection for the museum. He got no response.
Nothing.
So Vanausdall—who first met Adams and viewed his Native American and Western art and artifact collection in 2004—asked again. And again.
After all, Adams' collection was "stunning and very extensive," Vanausdall said. And many of the pieces had never been seen in public.
But now, thanks to Vanausdall's friendship with Adams—and perhaps his persistence—that's set to change.
The Eiteljorg will open the "Titan of the West" exhibit on Nov. 12, featuring art that Adams and his wife, Nancy, willed to the museum.
But for years, Vanausdall had no reason to think the Eiteljorg would ever get to display the collection.
"The strangest thing was, he never answered," Vanausdall said. "He never gave us a hint he was going to give us the collection."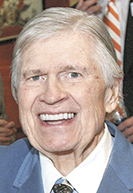 Adams
Adams didn't even answer a four-page letter Vanausdall sent in 2008.
Then, to Vanausdall's surprise, he got a call from Adams' attorney several months after Adams died in the fall of 2013.
"He said, 'I suppose you know why I'm calling.' And I responded, 'I haven't a clue.' And I really didn't. That's when he told me Bud had bequeathed his collection to the Eiteljorg," Vanausdall recalled.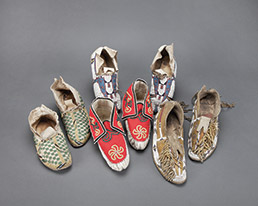 Late 19th century and early 20th century moccasins worn by Plains Indians are part of the 90 artifacts and 60 paintings to be included in "Titan of the West." (Photo courtesy of Eiteljorg Museum of American Indians and Western Art)
This time, it was Vanausdall who went quiet.
"I came close to falling out of my chair," he said.
After he gathered himself, he dashed out of his office and yelled down the museum's main stairs to Chief Curatorial Officer James Nottage, who was leaving for the day.
"I knew the minute he told me, it was going to be one of the most important things to happen to the Eiteljorg," Nottage said.
Vanausdall said Adams' bequest is one of the three most important collections the museum has received since it was founded in 1989 with Harrison Eiteljorg's sizable collection. The other two were from the George Gund family in 2002 and Helen Kersting in 2010.
Coincidently, two of the museum's most important collections came from sports owners. Gund owned the NBA's Cleveland Cavaliers and National Hockey League's San Jose Sharks.
Adams, a native Oklahoman with Cherokee blood running through his veins, graduated from Culver Military Academy in northern Indiana and had become familiar with the Eiteljorg through art shows put on by Culver in the 1990s. His knowledge of the museum grew when a mutual friend introduced him to Vanausdall in 2004.
"You could immediately see what this collection meant to Bud," Vanausdall said. "Many of his relatives were driven on the Trail of Tears to Oklahoma. Bud was as intriguing as his collection. You could see how passionate he was about the collection. In many ways, he embodied the pieces he had collected."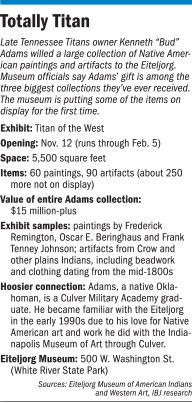 Opening many doors
Vanausdall hopes to introduce the public to that embodiment.
"Titan of the West" covers 5,500 square feet and features 60 paintings and 90 artifacts, which represents fewer than half the items Adams donated. Still, by most museum standards, the exhibit is huge.
Though Eiteljorg officials declined to estimate the value of Adam's complete collection, multiple appraisers put it in excess of $15 million.
"The value of a collection like this goes far beyond any dollar figure," Vanausdall said. "It enriches our holdings in a very significant way. It fills in some important aspects of our collection and amplifies other aspects."
Still, he added: "There's no way I can imagine having the cash to buy a collection like this."
Many are calling the collection a game-changer.
The exhibit's name is a nod to Adams' ownership of the Tennessee Titans, but also to his stature as an advocate for Western and Native American causes and as a collector extraordinaire of that genre of art.
"The sheer size of the collection is absolutely extraordinary," said Scott W. Hale, vice president of Native American Art Appraisals Inc. in Tulsa, Oklahoma. "Each item in this collection is of such high caliber, I would suspect it's going to be a sizable draw."
Hale, who formerly taught Native American Studies at the University of Oklahoma, said the painters featured in Adams' collection "are among a who's who of Western American art."
"This collection is so sizable, it will allow the Eiteljorg curator to put together multiple exhibits to be a drawing card for years to come," Hale said.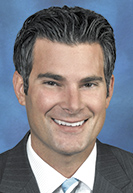 Gahl
The timing of "Titan of the West" is good for multiple reasons.
It opens just eight days before the Titans play the Indianapolis Colts at Lucas Oil Stadium. That happy coincidence led to a recent feature article on the exhibit in the Nashville Tennessean.
"Bud Adams is a popular figure in the NFL and especially in Tennessee," said Colts Chief Operating Officer Pete Ward. "He was proud of that collection. It was part of his heritage. I think Titans fans in particular are aware of the connection."
The exhibit has also received major play in several arts- and museum-related publications, including a center spread in Western Art Collector magazine, one of the most-read publications covering the genre.
The opening also coincides with the launch of Visit Indy's annual holiday marketing campaign.
"We think this exhibit is going to give us a major platform to market the city," said Visit Indy Vice President Chris Gahl. "We think it's going to be a draw from Nashville [Tennessee], which is an emerging market for us, as well as other cities regionally and nationally.
"The collection is well-known by itself, but the fact that it was owned by such a well-known and beloved professional sports team owner only makes it that much more high-profile," Gahl added.
Boost for Eiteljorg
The exhibit also comes at a good time for the Eiteljorg, which last year suffered a 14 percent decline in attendance, down to 139,000 from a record 162,000 in 2014. The slowdown broke a five-year run of increasing attendance, Vanausdall said.
Ticketed admission plummeted 36 percent, from $705,000 in 2014 to $454,000 in 2015, a trend Eiteljorg officials are hoping the new exhibit will help arrest. Ticket revenue through this September was $304,000.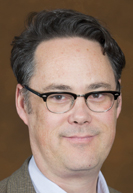 Jackson
Attendance through September is 102,000, museum officials said, and they project year-end totals to be about 140,000 with the help of the new exhibit and the holiday rush. Since Titan of the West runs through Feb. 5, it should give a boost to 2017 attendance as well.
The museum's goal is for 20 percent of its budget—this year set at $8 million—to come from daily admissions, facility rentals, and gift shop and cafe sales. In 2015, the museum missed that mark by about $100,000.
Officials also hope the Adams collection will help the Eiteljorg lift its profile with other art collectors and those who might help bolster the museum's endowment.
The Eiteljorg this year launched a five-year campaign to boost its endowment, a move that—if successful—could stabilize operating revenue. In January, the Eiteljorg laid off five full-time employees due to financial difficulties.
Museum officials said their financial situation has since strengthened through a growing endowment—now at $27 million.
Up to this year, about 15 percent of operating revenue was generated by the endowment. The goal is to move the amount to more than 30 percent.
About 65 percent of revenue is gifts from individuals and corporations, grants from private foundations, and annual memberships.
"This is a major development. It's huge. It should be a major building block for the Eiteljorg in building its collection," said Jason Baird Jackson, director of Indiana University's Mathers Museum of World Cultures in Bloomington. "Acquiring a collection like this is a clear signal to collectors, artists, authors, critics and curators that the Eiteljorg is very serious in this genre."
Jackson, an expert on the material culture of native peoples of North America, said the Eiteljorg "has made a name for itself in a relatively short period of time."
"A museum that is not growing is dead," he said. "An acquisition like this and an exhibit like the 'Titan of the West,' which is very large at 5,500 square feet, demonstrates that the Eiteljorg is most certainly growing. People in this industry and philanthropists and philanthropic organizations that support museums like the Eiteljorg will most certainly take notice."•
Please enable JavaScript to view this content.