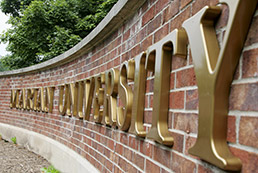 Marian University is hoping to take advantage of a new state teaching scholarship by further sweetening the pot for students, with the hope of attracting a better-prepared student body.
The private, Indianapolis Catholic college on Monday announced it will partner with the state to supplement the tuition costs for 25 students each year who earn one of the state's new Next Generation Hoosier Educators Scholarships. The Indiana General Assembly passed legislation earlier this year to fund 200 scholarships annually to provide $7,500 per year to high-achieving students won want to teach in Indiana upon graduate.
The legislation was "designed to incentivize our best and brightest high school graduates to pursue degrees in teaching and work in Indiana's classrooms," according to Indiana House Speaker Brian Bosma.
Marian's tuition is about $30,000 per year, according to spokesman Mark Apple, so the college will be providing an additional $23,000 or so to the 25 scholarship winners it accepts. Apple said it hopes to have the funding to provide the tuition assistance to more than 25 scholarship winners next year.
"If we expect more from our education students, then we must be prepared for them to expect more from us," said Marian President Dan Elsener in a written statement.
The college also announced the creation of a new education school, called the Educators College. Marian already educates future teachers, but plans to make the new program more intensive.
It will be a five-year combination bachelor's and master's degree program, with the fifth year being a one-year clinical residency at a private, charter or public school in the state.
Apple said the program hopes to attract minority students, students who want to focus on science, technology, engineering and math, and those interested in special education—areas he said could all use a burst of new Indiana teachers.
"Marian University has been a teachers college since its founding 80 years ago, and we've never wavered from the mission to place our students in the highest need classrooms all across the United States," Elsener said. "With education at all levels more important than ever before, the Educators College at Marian University will make a lasting, substantial impact on our schools and our students."
Students must have either graduated in the top 20 percent of their class or earn a score in the top 20th percentile on the SAT or ACT to qualify for the state scholarship. Students must maintain a 3.0 cumulative grade point average and complete at least 30 credit hours per year to receive the grant.
Incoming and current college students who commit to teaching in Indiana for five consecutive years could start applying for the scholarship program starting Nov. 1.
Please enable JavaScript to view this content.