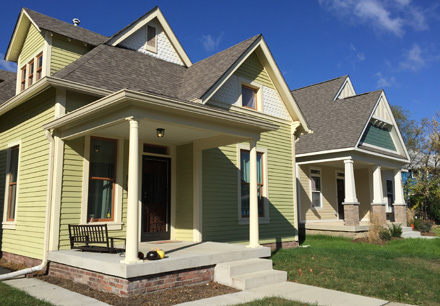 A near east-side neighborhood is approaching an impressive housing milestone following years of neglect.
With assistance from Near East Area Renewal, St. Clair Place has seen 90 new or refurbished homes come on the market since 2010. And that number is expected to grow to 100 next year.
Because NEAR receives federal funding to purchase the vacant lots or abandoned houses, most of the homes (87) were priced below market value and sold to buyers making less than 80 percent of Marion County's median income.
But the neighborhood now is rebounding enough to attract wealthier buyers who don't need any subsidies, prompting NEAR to refurbish three houses without any federal assistance at all. The first, on Jefferson Avenue, sold last year for $190,000.
On top of that, a private residential developer, Steven R. Keller Construction, has entered the neighborhood and is undertaking its first project in St. Clair Place.
"We hope that private development will take hold but want to make sure affordable housing continues in the neighborhood," NEAR Executive Director John Franklin Hay said. "We want a vibrant mixed-income neighborhood that works for everyone."
St. Clair Place is bounded on the north and south by East 10th Street and East Michigan Street and on the east and west by Rural Street and Tecumseh Street. The neighborhood, consisting of about 900 residential parcels, was developed in the early 1900s but fell into decay as residents fled to the suburbs.
Until recently, evidence of the decay remained most visibly in the form of a few flophouses—often rife with drug-dealing and prostitution—which NEAR managed to wrest from the owners.
NEAR partners with organizations to spur revitalization in 20 east-side neighborhoods. St. Clair Place, with a 40 percent residential vacancy rate, was identified in 2007 by the Great Indy Neighborhoods initiative as an area most in need.
That program helped attract the National Football League to the near-east side after Indianapolis won the bid in 2008 to host the 2012 Super Bowl. The housing project initially received a $500,000 commitment from the charitable arm of the Metropolitan Indianapolis Board of Realtors to renovate 32 homes in partnership with the John H. Boner Community Center.
NEAR, with the aid of Housing and Urban Development dollars, buys the vacant homes and lots through the Renew Indianapolis program—a not-for-profit that strives to return vacant and tax-delinquent properties to the city's tax rolls.
Until 2014, Renew Indianapolis operated as the Indy Land Bank—its city-controlled predecessor that was dismantled in a federal corruption probe.
Most of the homes NEAR renovates or builds typically sell for between $110,000 and $140,000 to county residents making less than $37,350. The amount rises to $54,000 for a family of four.
Funds from HUD help offset development costs. But no assistance is needed for the three homes that have been renovated for market-rate buyers.
"We'll continue to do a few market rate houses," Hay at NEAR said. "It would be nice to have a little revenue to support our mission, but that's not the objective."
The three market-rate homes all are located on Jefferson Avenue, where much of the overall housing revitalization is occurring in St. Clair Place. That's because it was the most "gutted street" and where NEAR could get site control easiest from Renew Indianapolis, Hay said.
The result often is clusters of new and renovated homes adjacent to one another to build home values, Hay said. Besides Jefferson, new houses also can be found on Beville, Hamilton, and Keystone avenues. Tacoma Avenue is next year's target street.
The real test for the neighborhood, however, will be how quickly the new home under construction at 652 Jefferson Ave. sells. That's the house Keller Construction is building with an expected price north of $260,000, said residential real estate agent Jay Pearl, who is listing the property.
The three-bedroom, 2-1/2-bath home should be finished next month. Keller Construction also is building a house on Hamilton Avenue—its second in St. Clair Place.
Pearl bought a house 10 years ago on Tecumseh Street, with the intention of rehabbing and flipping it. Unable to sell it, he moved in and has lived in the neighborhood ever since.
His experience at unsuccessfully trying to sell his home is quite a contrast to what's now occurring in St. Clair Place.
"I didn't think I would see it this fast," Pearl said of the resurgence.  
Please enable JavaScript to view this content.