Republican Todd Young has pulled off a stunning win in the U.S. Senate race over Democrat Evan Bayh, who has been one of the best known and most popular figures in Indiana politics.
Young was leading with 52 percent to Bayh's 42 percent, with 87 percent of precincts reporting.
Bayh, a former two-term governor and senator, upended the race mid-summer, jumping onto the ballot after Democrat Baron Hill dropped out.
Young, who currently represents the 9th District in the U.S. House, had a big lead over Hill but became an instant underdog versus Bayh, who came into the race with nearly $10 million and all but universal name identification.
But questions about Bayh's residency—he raised his family in the Washingon D.C. area while maintaining a condo in Indianapolis—dogged him throughout the campaign. And his lead continued to deteriorate after reports that he searched for a lucrative job during his last year in the Senate six years ago.
Retiring U.S. Sen. Dan Coats introduced Young to a cheering crowd at the JW Marriott, where Republicans were gathered.
Young took the stage and said, "Tonight was a great victory. Not for me, but for the people of Indiana."
He promised to be a conservative in the Senate. "Let's enjoy this evening, then let's go to work," Young said.
The crowd briefly chanted "Go Todd Young!"
Bayh took the stage at the Indiana Convention Center at about 9:25 p.m. He thanked his supporters and congratulated Young. He urged people to come together after the election and said he stood "ready in the years to come to help my fellow citizens in any capacity they may see fit to have me."
"I want to thank all of you [who] have made this journey possible," Bayh said. "I hope more than anything that together we can find a better kind of politics, one that emphasizes hope, not fear, … and one that finds common ground we can stand on and move forward on together. … America needs unity more than anything else."
Pete Peterson, a Fishers City Council member and former Hamilton County chairman, called Young's victory a "huge win."
"Todd coming back from 25 points down… if that's not a huge statement, I don't know what is," he said. "Evan Bayh wasn't really a Hoosier anymore."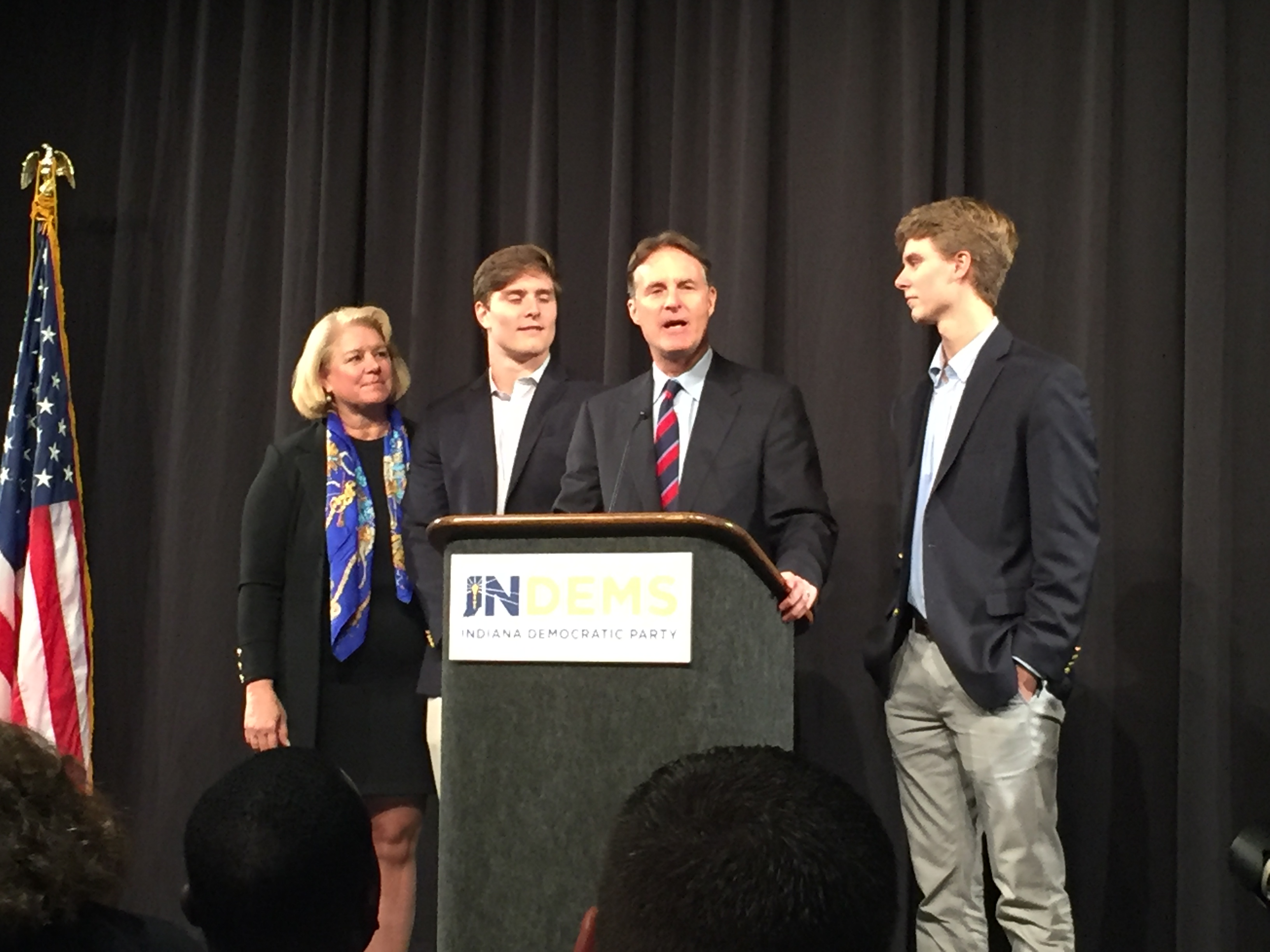 The race was considered important nationally as Democrats fought to take control of the Senate from Republians. Outside groups poured $40 million into the race, which quickly turned negative.
Republicans painted Bayh as a Washington lobbyist who lost his Hoosier values after being "bought" by the companies he went to work for after leaving the Senate in 2011, and Democrats attacked Young for accepting campaign donations from the executives of the parent company of Carrier Corp. and not making American workers a priority.
Bayh, 60, served as Indiana governor from 1989-1997 and U.S. senator from 1999-2011. After leaving the Senate, he became an adviser with private equity firm Apollo Global Management and with law firm McGuire Woods.
Bayh, who was elected secretary of state in 1986, had never lost an election. His father, Birth Bayh, was a three-term U.S. senator.
Gordon Hendry, a member of the Indiana State Board of Education and a Bayh supporter, tweeted that he was "very very sad" about the Bayh loss.
"Stunning," he continued. "Power of tens of millions of negative ads and Trump."
Senate Minority Leader Tim Lanane said Bayh's loss is "certainly disappointing" but it was tough for him to overcome Donald Trump's big Indiana win margin.
Young has served three terms in Congress. The 44-year-old is a Naval Academy graduate, former Marine Corps intelligence officer and aide to former Sen. Richard Lugar.
Indiana Republican Chairman Jeff Cardwell said Young's victory "speaks well for his record. He's lived a life of service."
He was an attorney living in Bloomington in 2010 when he narrowly won a four-way Republican primary and then defeated Democratic Rep. Baron Hill, riding the tea party wave into Congress.
In the weeks leading up to Election Day, Young had the support of key Republican leaders, including former presidential candidates Carly Fiorina and Ted Cruz and Arkansas Sen. Tom Cotton. Gov. Mike Pence also came off the presidential trail to campaign for him.
Young also earned endorsements from some of the state's largest newspapers, including The Indianapolis Star and Evansville Courier & Press.