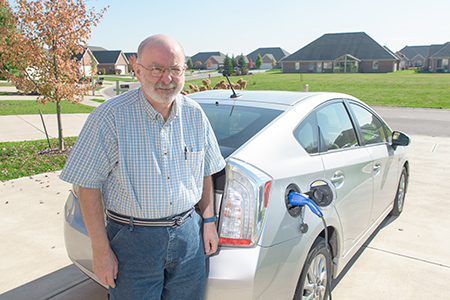 The members of the Hoosier Electric Vehicle Association are a bit obsessed. Or, maybe more than a bit.
George Pelton drove to the group's November meeting in Irvington in his 2015 Tesla Model S, an all-electric car he purchased four months ago that he's still downright giddy about. Pelton also owns a 2014 Chevrolet Volt—a plug-in hybrid, his second—and he's already eyeing the 2017 Volt.
Down the table is Nick Harmless, who in 1992 pulled a busted motor out of a 1984 Pontiac Fiero and rebuilt it with batteries. He's put 235,000 miles on it since.
And then there's the group's president, Richard Steiner, whose prize possession is a tiny, two-seat electric Think Car—the kind manufactured in Elkhart from 2010 to 2012. He also has two Insights, an electric car Honda made until 2014, and a Subaru Justy that he converted from gas to electric.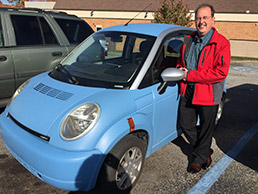 Richard Steiner, who owns several electric vehicles, including this two-seat Think Car made in Elkhart, is an electric vehicle specialist at Tom Wood Auto Group. (IBJ photo/Lesley Weidenbener)
These early adopters meet every month to talk about their cars—and debate when the day will come that owning an electric vehicle or plug-in hybrid won't be so unusual.
For now, they are among the tiny percentage of drivers who have been willing to make the leap.
Through August, only about 1.7 percent of the 170,000 new cars registered in Indiana this year were gas-electric hybrids. And just 0.1 percent—that's one in every 1,000 newly registered cars—were electric, which are often referred to as EVs.
That's only slightly less than the nationwide figure, where 2.3 percent of new vehicles registered this year have been gas/electric hybrids and 0.4 percent have been electric-only, according to IHS Markit, an industry research firm.
The market is driven by California, where stiffer environmental rules and tax incentives make it more advantageous to own a hybrid or electric vehicle.
But in Indiana—and across much of the Midwest—the market has been slower to gain traction because fewer cars are available, gas costs are low, and there's no state tax incentive for purchases.
"There's still a big learning curve on hybrids and electric cars," said Marty Murphy, executive vice president of the Automobile Dealers Association of Indiana. "A lot of people's interest is piqued. But they want to see somebody else do it first and they want to ask them questions."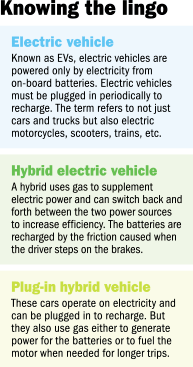 Also, customers interested in purely electric cars are concerned about range, something the industry is working feverishly to improve. Most electric-only cars—at least those at an affordable price point—can go only 50-100 miles on a charge.
But several companies are on the verge of releasing longer-range options. Chevrolet, for example, will begin selling its all-electric Bolt EV—which can go 238 miles on a charge—in the coming weeks. But the rollout will start in California and Oregon, and it's not clear when it will come to Indiana.
"Roughly 50 percent of EV demand comes from those two states," said Fred Ligouri, a Chevy spokesman who specializes in electric vehicles. "We believe in strongly satisfying demand as quickly as possible."
The company plans to deliver cars to dealers nationwide at some point in 2017, Ligouri said, with an emphasis on getting "inventory out to where demand exists."
And that's typical. When Chevy updated and released the 2016 version of its Volt—the sixth-most popular hybrid this year in the United States—the model never made it to Indiana. Hoosiers had to wait until Chevy released the 2017 Volt, which is now available in limited quantities across the region.
Toyota, meanwhile, is preparing to release a plug-in version of its Prius—the best-selling hybrid in the United States—but dealers in Indiana say they don't expect to get the new Prius Prime on their lots to sell for months or even a year. Toyota has not released a distribution schedule.
"The coastal folks are more attuned to this [market]. Their gas prices are higher. Their awareness is great. That's where the market is," Murphy said. The cars will "get out to the middle of the country eventually."
Waiting our turn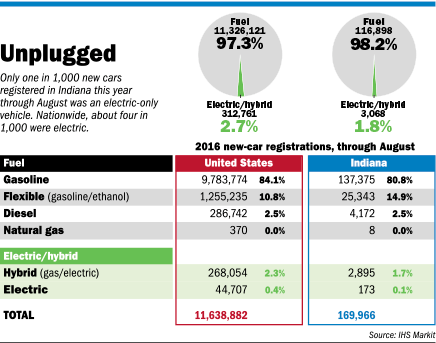 That's frustrating for Dennis Whitson. The retired engineer in New Palestine already owns a plug-in Prius, an earlier generation of the car that gets only about 11 miles on an electric charge before it switches to gas generation. It's a model that was never sold in Indiana. Whitson's car was purchased by a driver in New York who moved to the Midwest. Whitson bought it at used-car dealer Carmax.
The car is his second Prius and Whitson is eager to check out the new Prius Prime, which will go twice as many miles on a single charge.
"But I'm not going to drive to the coasts to get one," Whitson said. "I'll probably just have to buy a used one in a few years."
Waiting is especially frustrating for electric- and hybrid-vehicle enthusiasts, said Steiner, the Hoosier EVA club president who's also the electric vehicle specialist at Tom Wood Auto Group.
"They want to buy the latest and greatest," Steiner said. "It's a small market, but the early adopters want what's new."
But Murphy said waiting for new models has its perks. By the time a vehicle gets to Indiana, most of the kinks have been worked out.
Still, moving the hybrid and electric vehicles from the enthusiast market into the mainstream in Indiana has its challenges.
First, gas prices are low across the country but especially in Indiana, Murphy said. According to the AAA Hoosier Motor Club, the average price in Indiana was $2.12 on Nov. 6—about 10 cents lower than the cost nationwide.
Customers doing the math—the price of a fill-up at the tank versus a full charge through a home outlet—don't typically think seriously about electric vehicles until gas prices top $3 per gallon, Steiner said.
That's despite estimates from the U.S. Department of Energy that it costs an average of $1.18 to drive an electric vehicle the same distance as a typical car travels on $2.09 of gasoline.
And Indiana does have the advantage of cheaper-than-average electric rates as well. That means it costs less to charge a plug-in hybrid or EV in Indiana than in most states. Steiner estimates it costs only about 25 cents per day to charge his Think Car.
Pelton, the club member with a Volt and a Tesla, said he used less than one tank of gas last year for all his city driving in his Volt. And his electricity came cheap—about $15 per month. Pelton signed up for an Indianapolis Power & Light program that lets him charge his car at a cheaper rate—as long as he does so during off-peak hours.
"It's a super deal," Pelton said.
Thanks to a grant, IPL also installed a fast-charging station for free at Pelton's home.
That grant—which came from the U.S. Department of Energy—has run out so the utility is no longer installing free charging stations, but the rate program continues. Currently, about 115 customers are signed up, said Cole Willis, program manager for IPL's energy-efficiency team.
"It's typically a savings of a few cents per kilowatt," Willis said. "It provides an incentive to charge overnight, when it's beneficial to us."
IPL also operates 20 public charging stations, which are meant to help potential electric-car owners get over what the industry calls "range anxiety." It's a term that refers to drivers' worries that they will run out of charge before they reach their destinations. IPL lets electric car owners charge for just $2.50 at any of those stations.
IPL has no immediate plans to roll out more stations. That's in part because Blue Indy, the electric-car-sharing service that moved into Indianapolis last year has more than 75 charging stations around town available for use by the public. Electric car owners can pay $20 per year for the ability to plug into a Blue Indy station for $2 per hour.
In addition, a growing number of companies—including Eli Lilly and Co.—have installed stations that let employees charge their cars during their work days.
Battery anxiety
The expanding network of stations hasn't been enough to persuade Andy Hasara to buy an electric car, even though he's been fascinated by the technology and the vehicles for years. Hasara has good friends in Lafayette, and the electric cars available until recently didn't have the range for that trip.
"I'm worried about getting from place to place without the battery running out," he said.
Steiner said that's a common concern, which is why more manufacturers are developing plug-in hybrids like the Volt and the Prius Prime. Currently, he said, customers come into dealerships interested in both hybrids and electric cars but often go with a hybrid because they think they need a car that will go at least 300 miles without having to stop.
Pelton gets it. That's why he stuck with the hybrid Volts until he could buy the Tesla with its 200-plus-mile range.
"One of the big thrills of the automobile is that you can go anywhere at any time," he said. "Even if you don't, you have that ability, that freedom."
One motivator that might get more customers to buy an electric vehicle is a state tax incentive, something offered in at least eight states but not Indiana.
Already, customers who buy some hybrids and electric cars new can qualify for a federal tax credit of up to $7,500. That would essentially reduce the cost of a new Volt, for example, from a manufacturer's suggested retail price of $33,220 to $25,720.
But residents in Louisiana can get an additional tax credit of up to $9,500, while residents in Rhode Island can get a $2,500 rebate.
Murphy said those types of incentives are sometimes proposed in Indiana but are not likely to become law anytime soon.
That's in part because the state counts on gasoline taxes—which electric car users don't pay—to fund roads and bridges. So encouraging more electric car purchases doesn't make much financial sense, Murphy said, unless those owners pay a surcharge or fee in lieu of gas taxes, something under consideration in other states.•
Please enable JavaScript to view this content.